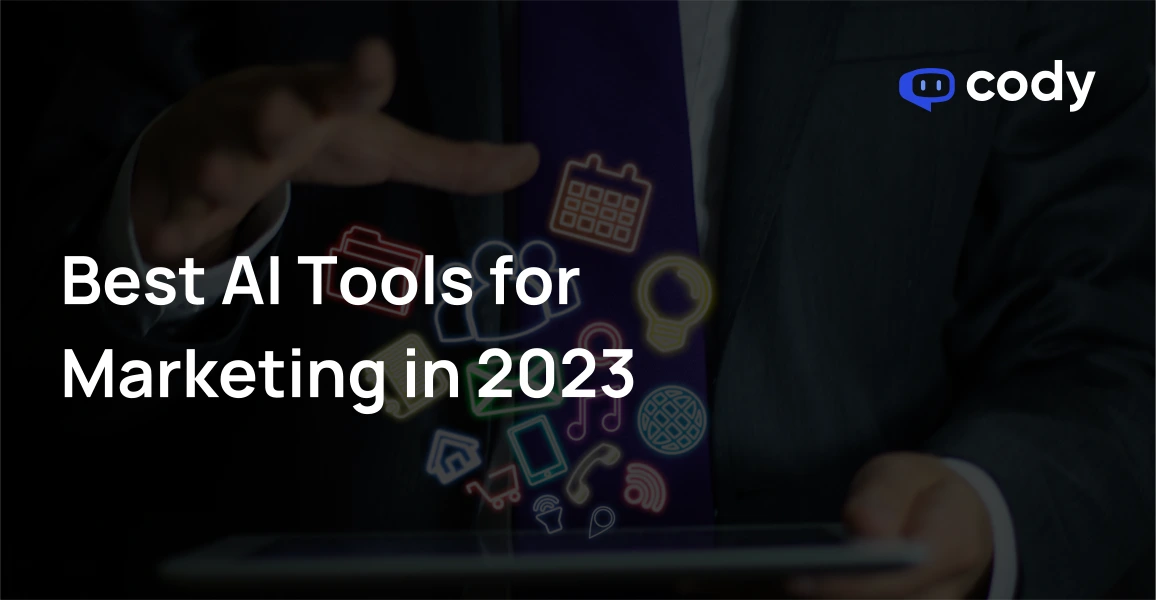 Top 11 AI Tools for Marketing in 2023: The Ultimate Marketer's Stack
Experts project that AI in business marketing will skyrocket to over $107.5 billion by 2028. In fact, the market is already brimming with cutting-edge AI tools for marketing. Before exploring the advanced AI tools for business and marketing, let's understand their meaning and significance.
What are AI Tools for Marketing?
Marketing AI tools are software applications that leverage Artificial Intelligence (AI) technologies to enhance and streamline various aspects of marketing. These tools harness the power of machine learning, marketing analytics, and predictive algorithms to automate, optimize, and augment marketing tasks, ultimately helping businesses and marketers make data-driven decisions and improve their marketing strategies.
Automating Repetitive Tasks
AI marketing tools utilize machine learning, marketing analytics, and predictive algorithms to automate tasks like data analysis, report generation, email marketing, and social media posting. This automation frees up marketers to focus on more strategic and creative aspects of their campaigns.
Customer Insights
AI tools analyze vast amounts of data to gain insights into customer behavior, preferences, and trends. These insights help marketers tailor their campaigns to specific target audiences, resulting in more effective and personalized marketing efforts.
Predictive Analytics
By using predictive algorithms, AI marketing tools can forecast trends and customer behavior, allowing marketers to make informed decisions on content, timing, and channels, ultimately leading to higher engagement and conversion rates.
Chatbots and Virtual Assistants
AI-driven chatbots and virtual assistants offer immediate responses to customer inquiries, providing 24/7 support. They enhance customer satisfaction and reduce response times.
Personalization
AI tools enable dynamic content creation and personalization, allowing marketers to deliver tailored content to individual users, improving customer engagement, and driving conversions.
Recommendation Engines
E-commerce and content-based platforms benefit from recommendation engines that suggest products, services, or content to users based on their past interactions and preferences.
Optimizing Advertising
AI can help optimize digital advertising campaigns by determining the best ad placements, bidding strategies, and ad content for maximum ROI.
Content Generation
AI can assist in generating written content, such as blog posts, product descriptions, and social media updates. It can also be used for creating visuals and videos.
Lead Scoring
AI tools can automatically score leads based on their likelihood to convert, enabling sales teams to prioritize their efforts on the most promising leads.
A/B Testing
AI-driven A/B testing can accelerate the process of testing different variations of marketing materials to determine which is the most effective.
Performance Analysis
AI analytics tools provide real-time performance analysis, helping marketers understand how their campaigns are performing and make adjustments as necessary.
Cross-Channel Integration
Many AI marketing tools integrate seamlessly across various marketing channels, allowing for a unified approach to marketing across email, social media, the web, and more.
1. Jasper.ai
Jasper creates text for advertisements, emails, landing pages, articles, and social media postings using the GPT3 model created by OpenAI. The copy will be generated for you after you submit your brand name or product. With a few clicks, this AI marketing tool can also create titles and meta descriptions, as well as product bullet points or descriptions.
Key Features
Content Generation
Tone Settings
Plagiarism Checker
Customizable Templates
Price
7-day free trial available
$40 for Starter (20,000 words)
$82 for Boss Mode (50,000 words)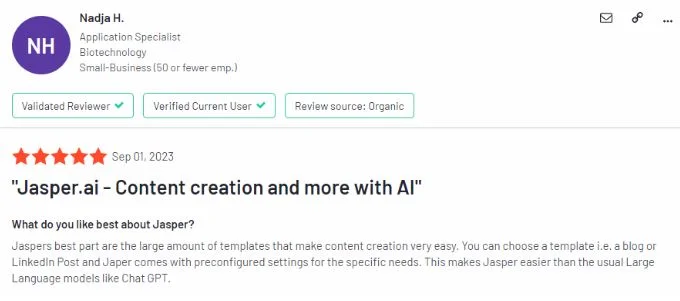 2. Adverity
Adverity enables you to see all of your marketing metrics in one place. All marketing data from many sources, including campaigns across all channels, is centralized so that it can be easily analyzed. Your AI employee teams can identify trends and insights this way, giving you the information you need to make wiser decisions.
Key Features
Pre-built connectors and no-code templates to use the platform without coding expertise
Control your data all from one place
Price
14-day free trial available
Standard Plan: Starting from €500 per month
Professional Plan: Starting from €2,000 per month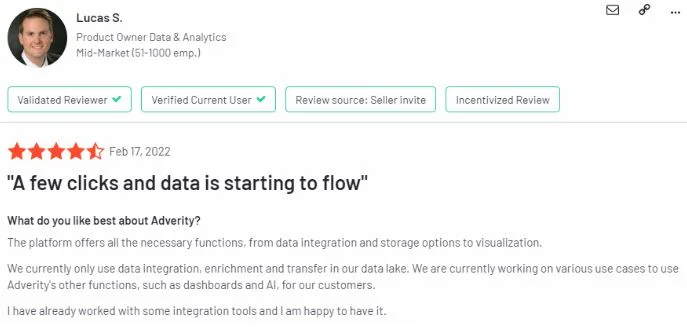 3. Flick
Flick Social Media AI Assistant for business is a marketing tool that makes coming up with ideas, composing posts, and preparing social media content easier. It provides a simple setup and round-the-clock support.
Key Features
AI Caption Writing (on-brand)
AI Idea Brainstorming
Post Scheduling
Auto-Suggested Hashtags
Hashtag Search & Manager
Price
7-day free trial available
Free plan available
Solo Plan: Starting from £11 per month
Pro Plan: Starting from £24 per month
Agency Plan: Starting from £55 per month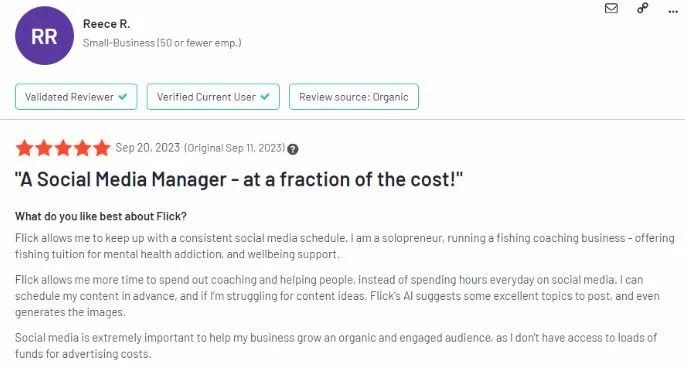 4. Predis.ai
Predis works as an AI Assistant for businesses on your simple word input to create everything from Instagram reels to single image postings. The thorough competition study provides more depth of understanding into what's working for your competitors using this AI tool for marketing.
Key Features
Built-in AI chat feature to generate text
Set posting targets to help stay consistent on social media
Price
Solo Plan: $29 per month
Starter Plan: $59 per month
Agency Plan: Starting from $139 per month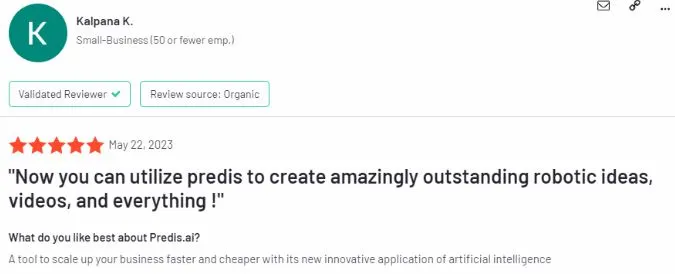 5. Drift
Drift's AI features are best for conversational marketing. They can assist in giving critical accounts a VIP experience or relieve overworked support personnel from handling simple questions that the chatbot assistant can manage.
Key Features
Pop-up Chat
Targeted Emails
In-App Messaging
Live Chat
Customization Interface
Price
Premium Plan: Starting from $2500 per month
Advanced and Enterprise Plans: Custom Quotes

6. GrowthBar
GrowthBar automates content creation using GPT-3 AI for business. This AI tool for marketing can recommend specific word counts, links, photos, keywords, and more. Both building blog post content outlines and offering comprehensive backlinking are a few features of GrowthBar. Furthermore, it offers a Chrome add-on.
Key Features
Search Engine Optimization
Paragraph Generator
Meta Generator
AI Blogging Tools
Price
Has not disclosed pricing publicly

7. Brand24
Brands can monitor both good and bad social media comments about their business in real time with Brand24's advanced AI social media monitoring platform. Working like an AI Assistant for business, it examines online discussions about the company, its products, and its competitors.
Key Features
Discussion Volume Chart
Data Exporting
Sentiment Scoring
Social Measurement
Price
Free trial available
Individual Plan: $79 per month
Team Plan: $149 per month
Pro Plan: $199 per month
Enterprise Plan: $399 per month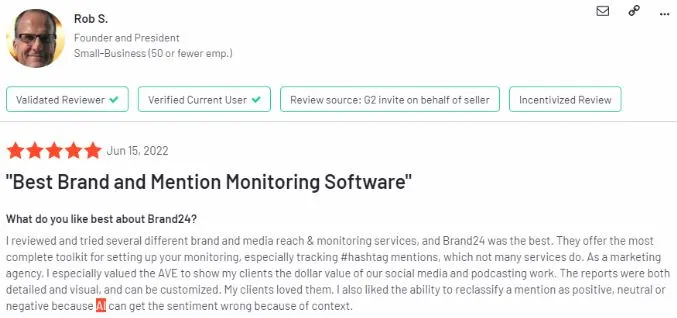 8. Phrasee
Phrasee specializes in "brand language optimization." This AI tool for marketing enhances the brand language in business copies. Using a natural language processing system and a machine learning algorithm, it can create a copy for emails, Instagram, Facebook, or even push notifications.
Key Features
Content Management
Predictive Analytics
Dynamic Content
Engagement Metrics
Price
Custom Quote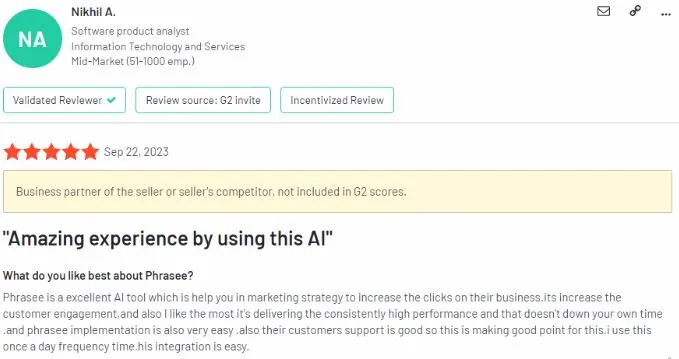 9. MarketMuse
MarketMuse helps create optimized long-form content, such as emails, sales copy, landing pages, or essays. A content brief and KPIs are included as guidance. The copy can be further edited by users using the built-in editor following the AI's recommendations.
Key Features
Categorization
SERP Rank Tracking
Data Visualization
Competitor Analysis
Price
Free version available
Standard Plan: $149 per month
Team Plan: $399 per month
Premium Plan: Custom Quote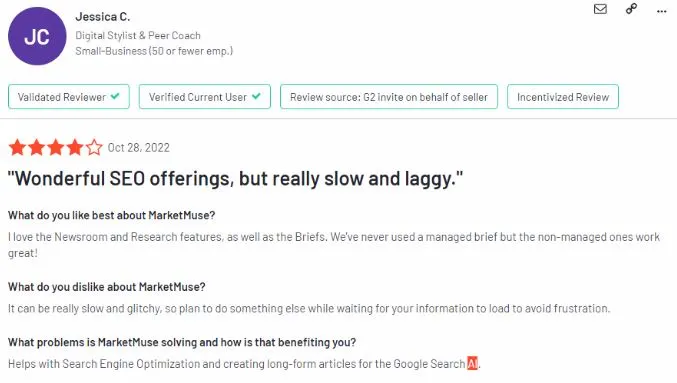 10. Optimove
Optimove's chatbot assistant, Optibot, searches through and evaluates all the consumer data offered to provide useful insights. This AI assistant can advise you to discontinue specific marketing initiatives depending on your losses or alert you to any clients who may have received excessive company communications.
Key Features
Campaign Insights
Hyper-segmentation
A/B Testing
Multichannel Tracking
Price
Custom Quote

11. Hubspot AI
Hubspot's AI capabilities help you create content that not only supports your organization but also helps in customer service. To develop high-quality content, they integrate with all of your HubSpot tools. Without having to hop between separate applications, your AI employee teams can use Hubspot's conversation intelligence and other tools to write blog articles, landing pages, and more.
Key Features
Creating written content, from emails and social media copy to meta descriptions and social media captions, using Campaign Assistant and Content Assistant
GPT-Powered, smart CRM chatbot assistant called ChatSpot that can be used as a stand-alone app
Price
Free demo available
Marketing Hub: Free
Marketing Hub Starter: Starting at $18 per month
Marketing Hub Pro: Starting at $800 per month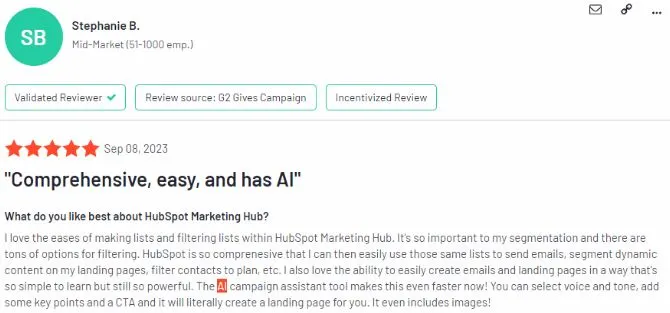 How to Choose the Best AI Tools for Marketing?
To choose the best AI tools for marketing, start by defining your marketing objectives. Determine what you aim to achieve with AI tools, whether it's improving customer engagement, optimizing ad campaigns, or enhancing data analysis. Having clear goals is essential in guiding your tool selection.
Understand Your Target Audience
Consider the characteristics and preferences of your target audience. Different AI tools may be better suited for B2B or B2C marketing, depending on your audience's behavior and needs. Understanding your audience is crucial in aligning tools with your target market.
Assess Your Budget
Determine your budget for AI tools. Some tools are free or offer basic versions, while others require a subscription or a larger investment. It's important to balance the cost of tools with the potential return on investment in your marketing efforts.
Research Options
Conduct thorough research to explore the available AI tools for marketing. Look for reputable tools with a proven track record of success. Reading reviews, case studies, and user feedback will help you assess their effectiveness.
Compatibility and Integration
Ensure that the AI tools you choose can seamlessly integrate with your existing marketing stack, including your CRM, email marketing platform, or analytics tools. Compatibility is crucial for efficiency in your marketing operations.
Features and Capabilities
Evaluate the specific features and capabilities of each AI tool. Consider factors such as data analytics, personalization, automation, and reporting. Your choice should align with the marketing strategies you plan to implement.
Trial Period
Whenever possible, take advantage of trial periods or demos offered by AI tool providers. This allows you to test the tools and see how well they perform in real-world scenarios before making a commitment.
User-Friendliness
Assess the user-friendliness of the AI tools. They should be intuitive and easy for your marketing team to use. Complex tools may require more training and support, which can impact your operational efficiency.
Data Security and Compliance
Ensure that the AI tools adhere to data security and privacy regulations, particularly if you handle sensitive customer data. Compliance with GDPR, CCPA, or other relevant laws is essential for maintaining trust with your audience.
Support and Training
Consider the level of support and training offered by the tool provider. Access to tutorials, documentation, and responsive customer support can be invaluable for a smooth adoption process.
Scalability
Choose AI tools that can scale with your business. Your marketing needs may evolve, so having tools that can grow with you is advantageous in avoiding frequent tool replacements.
Measure Results
After implementing AI tools, closely monitor their performance and impact on your marketing efforts. Utilize metrics and key performance indicators (KPIs) to measure their effectiveness and make adjustments as needed to achieve your marketing objectives.
Read More: Top 10 AI Tools for SEO in 2023 [With Latest Features]
Why is AI Important for Revenue Marketing?
AI is transforming revenue marketing by making it more targeted, efficient, and customer-centric:
Smarter, Targeted Advertising
AI leverages big data to craft ads that hit the mark. Understanding customer patterns and preferences helps create campaigns that resonate more, leading to higher conversions and boosting revenue.
Refined Search Strategies
AI sharpens search tactics, ensuring marketing efforts are laser-focused where they count. This precision not only saves marketing dollars but also drives higher returns, a cornerstone of revenue marketing.
Hyper-Personalization
AI's knack for tailoring content to individual tastes ramps up engagement and loyalty. This personal touch is key in nurturing long-term customer relationships, pivotal for ongoing revenue growth.
Automated Customer Service
Chatbots and AI-driven tools streamline customer interactions, enhancing the overall experience. This efficiency not only retains customers but also positively sways their buying decisions, fueling sales.
Enhancing the Customer Journey
In the Awareness Phase, AI builds detailed customer personas, targeting those most likely to engage.
During the Consideration Phase, AI-driven targeted ads make it easier for customers to discover relevant offerings.
In the Purchase Phase, AI suggests personalized upsells and cross-sells, boosting average order values.
Post-purchase, in the Retention Phase, AI crafts customized offers to encourage repeat buying.
AI also personalizes outreach for reviews and referrals, turning satisfied customers into brand advocates.
Integrating AI across the customer journey helps businesses attract new customers and deepen existing relationships, ensuring a steady revenue stream and a stronger ROI on marketing initiatives.
Beat Your Competition with AI Tools for Marketing
From content generation to analytics centralization, social media expertise, conversational marketing, and brand language optimization, these tools redefine AI in business marketing. Remember, using AI for business isn't just a trend; it's a revolution. Embrace it and stay creative in this never-ending field!
Read More: Top 6 AI Tool Directories in 2023