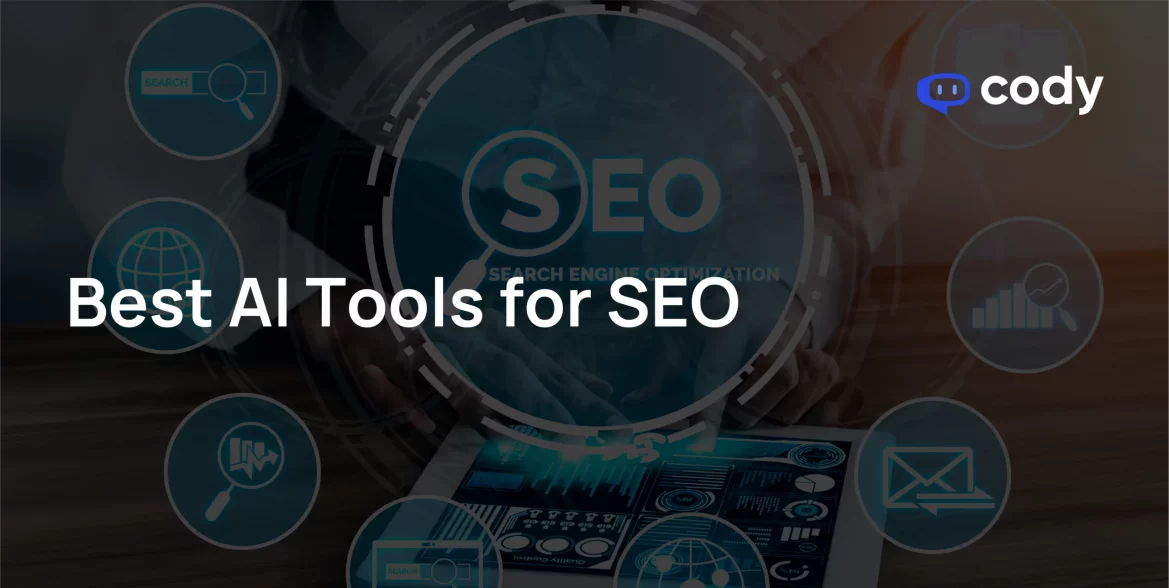 Top 10 AI Tools for SEO in 2023 [With Latest Features]
Before 2023, only 10% of marketers used AI tools for SEO (Search Engine Optimization) content generation. But this year, 58% have planned to invest in AI for business content and SEO strategies. And that's a significant leap!
If you're also looking to use AI for SEO, this blog will guide you to a number of AI-powered solutions to improve your SEO strategies. Let's find out the most powerful AI tools available for optimized content generation!
1. SurferSEO
Number one in this list is SurferSEO – an AI assistant for business that analyzes top-ranking websites for the keywords you pick and offers targeted on-page recommendations. From keyword density to semantic analysis, it provides data-driven recommendations that drive up the quality of the content you write. SurferSEO claims it creates an article in less than 20 minutes and at 7 times cheaper costs than a writer!
Key Features
On-page SEO optimization

Website's backlink suggestions 

Keyword density analysis 
Price
Essentials Plan: $69 per month

Advanced Plan: $149 per month

Max Plan: $249 per month

Enterprise Plan: Custom Quote 

Surfer AI: $29 per article

Audit Add-on: $49 per month 

SERP (Search Engine Results Page) Analyzer Add-on: $29 per month

White Label Add-on: $49 per month

API Add-on: $29 per month
Rating:
4.8/5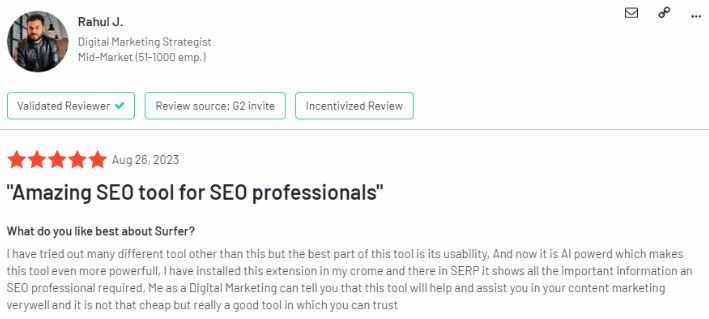 2. SEMrush
From researching keywords to monitoring what competitors are up to, SEMrush provides a range of AI-powered services. It includes many AI assistant tools for monitoring where your website ranks in search results, identifying opportunities to improve, and understanding what people are looking for.
You can provide your domain and target keywords. SEMrush goes through the first page of Google's search results to suggest keywords in just 15 minutes!
Key Features
Detailed keyword data

Backlink profile evaluation 

Real-time content optimization suggestions
Price
Free trial available

Custom plans available 

Pro Plan: $129.95 per month

Guru Plan: $249.95 per month

Business Plan: $499.95 per month
Rating:
4.5/5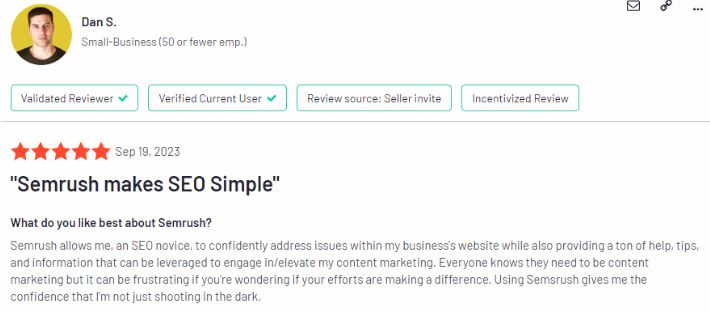 3. Keyword Insights
Keyword Insights is an intuitive SEO tool powered by AI for business content planning that enables you to generate keywords with a simple query and automatically group them using Natural Language Processing (NLP).
Key Features
Quick keyword generation based on the seed term, location, and language

Relevant clustering insights

Machine learning-based keyword search intent identification and classification from search engine results pages 
Price
Pricing information unavailable 
Rating:
4.9/5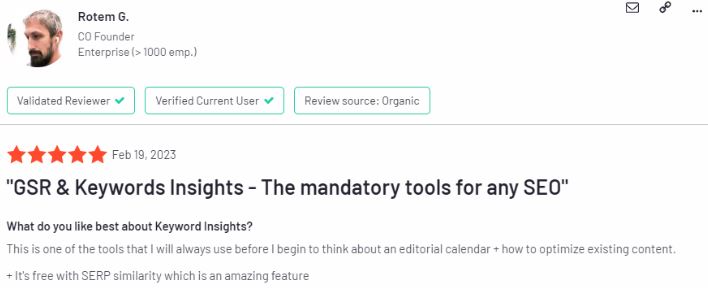 4. Clearscope
Clearscope analyzes the top-read articles in your sector using artificial intelligence to suggest keywords and subject matters for your content. By aligning your content with user purpose, you can create articles that are complete and more relevant.
Key Features
AI-based top-ranking article analysis 

Keyword and phrase suggestions 

Integration with Content Tools
Price
Essentials Plan: $170 per month

Business Plan: Custom Quote

Enterprise Plan: Custom Quote
Rating:
4.9/5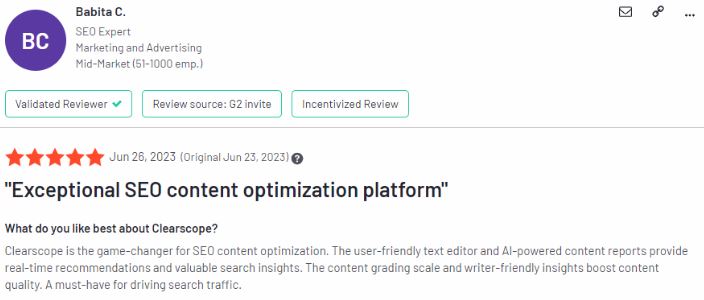 5. Frase
Frase is a user-friendly SEO AI assistant with a simple interface for organizing, producing, and optimizing content. It will automatically examine the content of your top rivals when you enter the title of your post. It also has an AI writer already integrated to assist you in coming up with ideas and expediting the content writing process.
Key Features
SEO analysis 

Competitor analysis tools

Intuitive user interface 
Price
Solo Plan: $14.99 per month

Basic Plan: $44.99 per month

Team Plan: $114.99 per month

Enterprise Plan: Custom Quote 

Pro add-on for unlimited AI content: $35 per month 
Rating:
4.9/5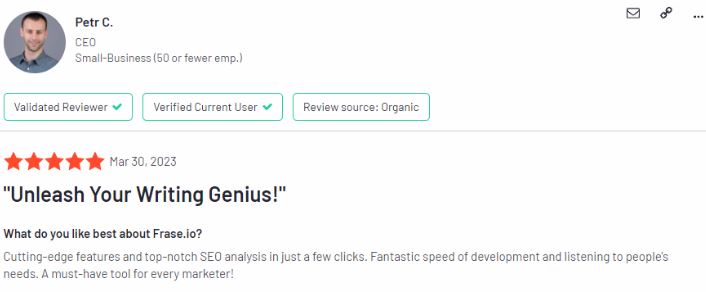 6. Serpstat
Serpstat presents offerings, including keyword research, backlink analysis, and site audits using AI algorithms. It empowers you to make data-driven decisions by offering insights into the strategies of your competitors and highlighting areas for development on your website.
Key Features
Detailed keyword data

Search engine rank tracking for particular keywords 

Local SEO strategies
Price
Free trial available

Custom plans available 

Individual Plan: $59 per month

Team Plan: $119 per month

Agency Plan: $479 per month
Rating: 
4.6/5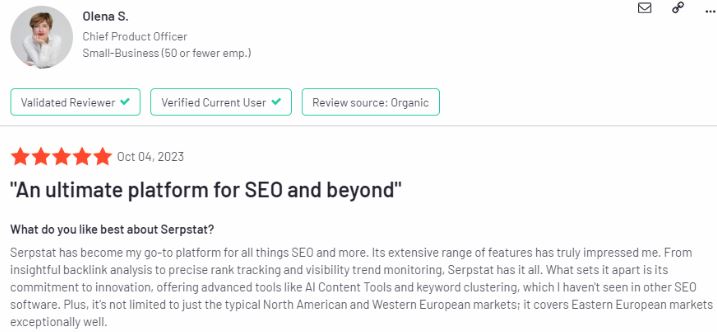 7. SE Ranking
For developing a solid on-page and off-page optimization plan, SE Ranking has in-depth toolkits for analyzing the performance of social media platforms and competitors, search traffic, and competitors. It also offers an API-based SEO report, along with a white-label solution. Plus, its Lead Generator widget aids in maximizing conversion rates.
Key Features
SEO performance monitoring for your competitors' and your content 

Single dashboard for core web metrics, crawled pages, and health scores.

Web page indexing
Price
14-day free trial available

Custom plans available 

Essential Plan: $55 per month

Pro Plan: $109 per month

Business Plan: $239 per month
Rating:
4.8/5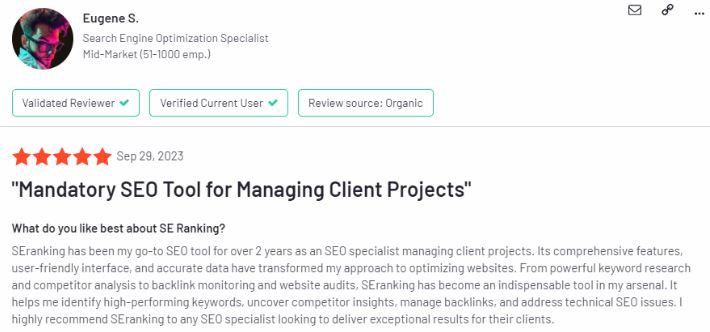 8. WordLift 
A relatively newer SEO tool, WordLift is a bespoke knowledge graph tool used to generate structured data using AI for business. It updates the HTML file's meta descriptions with new text. The suggested content adjustments help improve the user experience for visitors to your website.
Key Features
Designed to improve e-commerce website ranks

Content organized for better display in Google Shopping

Integration with Data Studio
Price
Free trial available

Custom plans available

Starter Plan: €59 per month

Professional Plan: €99 per month

Business + Ecommerce Plan: €249 per month
Rating:
4.7/5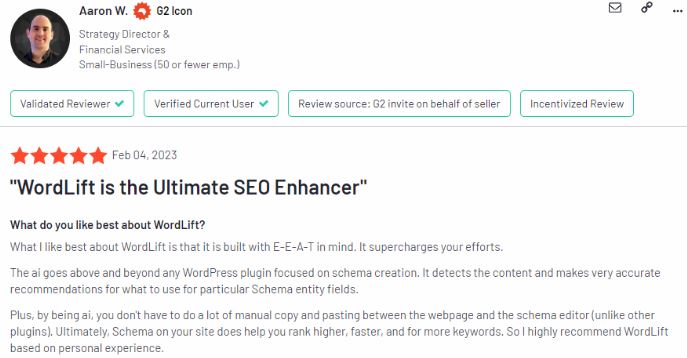 9. MarketMuse
MarketMuse provides a set of tools for managing SEO strategy and content intelligence. It offers feedback on individual pages and on "content clusters," evaluating the relevance and authority of the topic across collections of pages. You can use this AI assistant to plan content, cluster it, analyze it against competitors, review content briefs, and optimize it.
Key Features
Detailed SERP analysis

Content brief generator 

Content planning tools 
Price
7-day free trial available 

Standard Plan: $149 per month

Team Plan: $399 per month

Premium: Custom Quote 
Rating:
4.6/5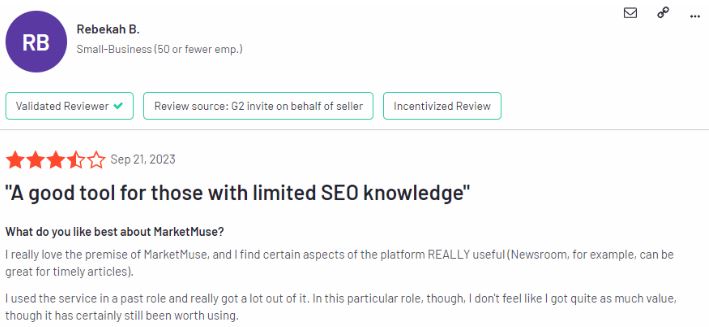 10. Jasper
Jasper is considered an early winner in Generative AI for business. With it, you can create content prompts most suited to your industry and target market. It can produce exciting and unique content that reflects your company's brand voice for blog posts, social media postings, and website copy while enhancing website rankings. 
Key Features
Brand voice training for brand messaging

Short- and long-form content creation

SurferSEO integration 

Supports 25 languages
Price
7-day free trial

Creator Plan: $49 per month 

Teams Plan: $125 per month 

Business: Custom Quote 
Rating:
4.7/5

How to Choose the Best AI SEO Tool for Your Business?
Choosing the best AI SEO tool for your business is a critical decision that can significantly impact your digital marketing and SEO strategies. To make an informed choice, consider the following factors:
1. Integration with Your Workflow
Evaluate how well the AI SEO tool integrates with your current content creation workflow, project management solutions, and other tools you use. A seamless integration can enhance efficiency and streamline your processes.
2. Data Sources and Insights
Examine the AI SEO tool's data sources to make suggestions and generate content. Tools that access a diverse range of data can provide more accurate insights. Ensure the tool aligns with your specific industry or niche.
3. Task Automation
Check if the AI SEO tool automates time-consuming and repetitive tasks. Look for features that automate keyword research, content optimization, and performance tracking. Automation can save you valuable time and resources.
4. User-Friendly Interface
Consider how the platform guides you through the SEO process. An intuitive, user-friendly interface can reduce the learning curve and minimize the need for trial and error. This is especially important if you have a team of users.
5. Collaborative Capabilities
Assess whether the AI SEO tool supports a collaborative work environment. It should enable multiple team members to collaborate on SEO tasks, share insights, and track progress. Collaboration is crucial for larger projects.
6. Content Optimization Features
Look for AI SEO tools that offer content optimization features. This includes machine learning for analyzing content and suggesting improvements, as well as natural language processing (NLP) to enhance the quality of your content. AI text generation should also be SEO-friendly.
7. Keyword Research Capabilities
Ensure that the tool has robust keyword research capabilities. It should help you find topics likely to perform well across different search engines. Keyword research is a cornerstone of successful SEO.
8. Trial Period or Demo
Whenever possible, take advantage of trial periods or demos offered by AI SEO tool providers. This allows you to test the tool in real-world scenarios and assess its suitability for your business needs.
9. Customer Support and Training
Consider the level of customer support and training provided by the tool provider. Access to tutorials, documentation, and responsive customer support can be invaluable for a smooth adoption process.
10. Reviews and Testimonials
Research reviews and testimonials from other businesses that have used the AI SEO tool. This can provide insights into its real-world performance and effectiveness.
Read More: Top 11 AI Tools for Marketing in 2023: The Ultimate Marketer's Stack
Pick Your AI Tool for SEO Wisely
The use of AI for SEO is rapidly growing, and for good reason. AI-powered tools can help you to save time and create content that is more likely to rank well in search engine results pages.
If you are new to AI for SEO, you can start with an AI assistant like SurferSEO or SEMrush. These tools offer many features, including keyword research, competitor analysis, and on-page SEO optimization. Once you better understand how AI can be used for SEO, you can explore more specialized tools like Frase or MarketMuse.