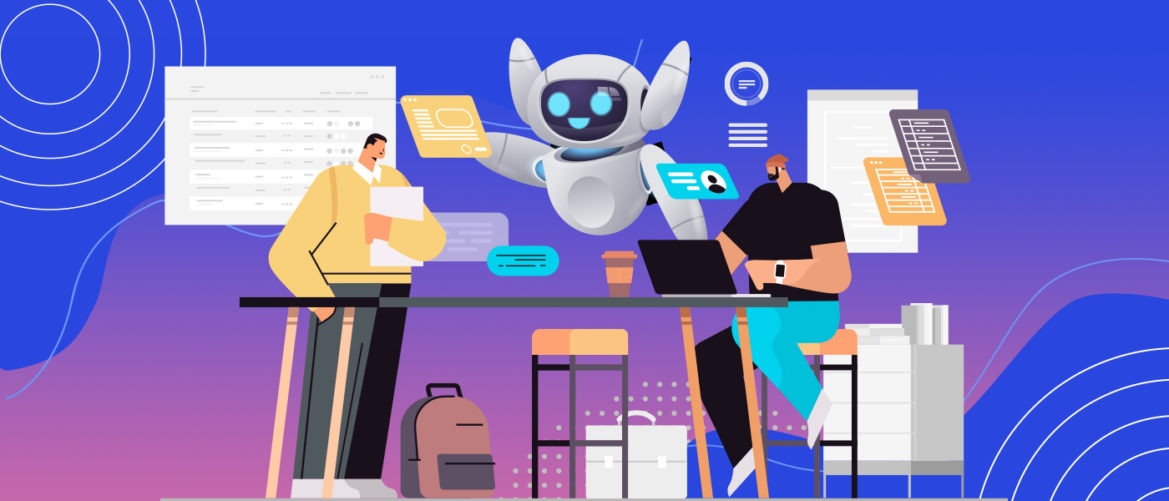 Top 6 AI Tool Directories in 2023
Artificial Intelligence tools are everywhere these days. The rise of AI may have started with the likes of ChatGPT and Dall-E, but the internet is now filled with a wide range of AI-powered tools and applications. There's no doubt that these AI tools are immensely useful in boosting your efficiency and productivity. Whether for work, creativity, or content generation, AI can simplify your life. But for so many tools, there are multiple AI tool directories.
You obviously can't keep track of them all. The good thing is that you don't have to because we've prepared a curated list for you.
Which are the Best AI Tool Directories?
A comprehensive directory makes it easy, quick, and convenient for anyone to find AI-powered apps and stay updated on new releases and weekly AI news. The rapid growth of AI applications has also led to the launch of popular AI tools directories that provide an extensive list of innovative AI tools like:
SEO Tools
SEO Writing Tools
Copywriting Tools
Marketing Tools
Content Repurposing Tools
Customer Support Tools
Using an extensive AI tools database, you can explore AI-powered solutions for tasks like video content creation, social media management, and software application development, to name a few.
Here are the top 6 AI tool directories you must explore: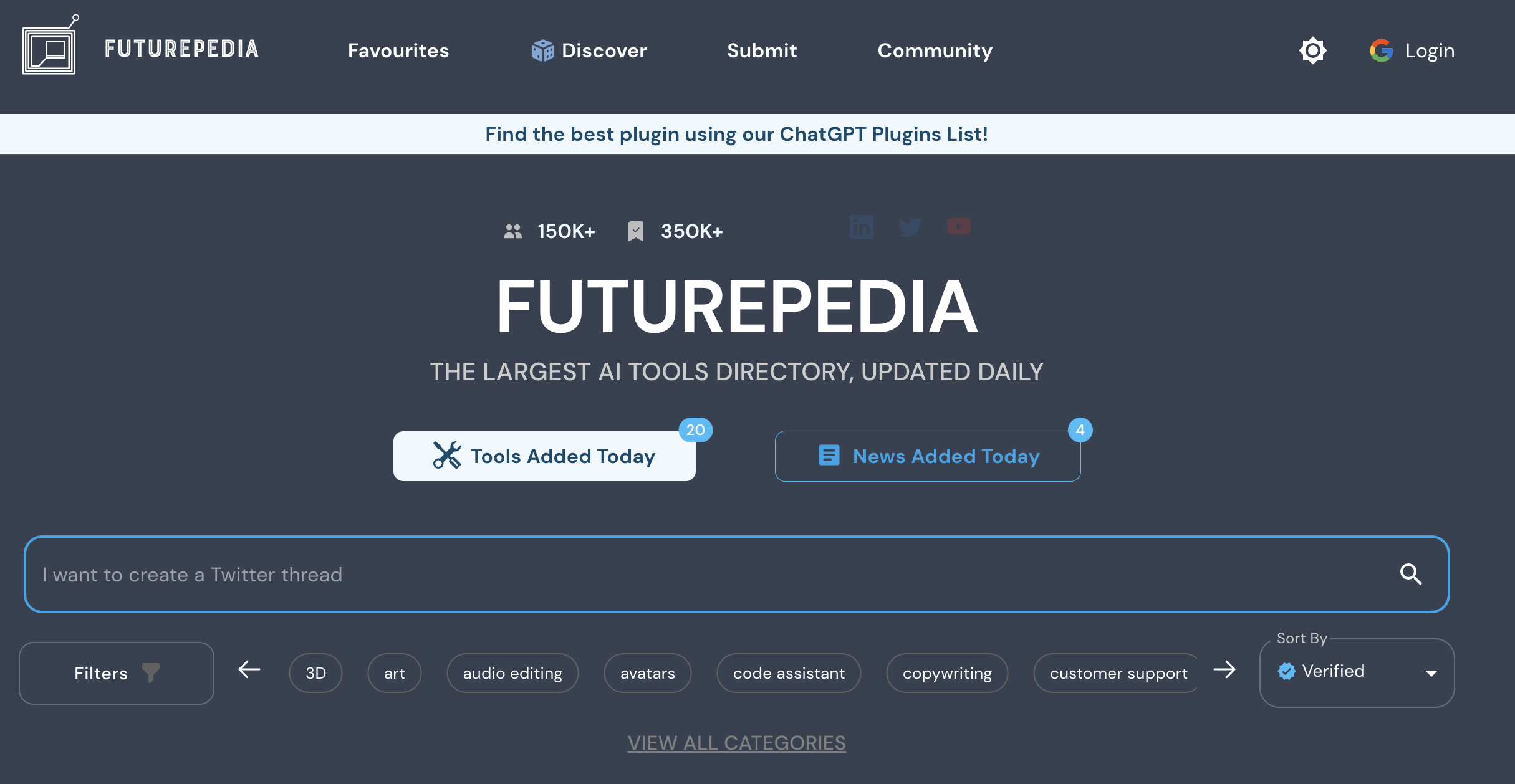 First on our list is one of the most amazing AI tool directories – Futurepedia. Its massive library of almost 4,000 tools and applications keeps growing as the list is updated daily.
For every app, Futurepedia provides detailed info, such as:
Whether it is free, paid, or freemium, along with the pricing
If there's a mobile app available
An option to mark an app as 'favorite' to quickly access it later
Link to the app's official website
Ratings, reviews, and the number of people who marked it as a favorite
All of this can be done without even leaving the home page!
There's a search box right at the top of the home page. We love how you can search with not just keywords but by typing in the task and activity for which you need the help of AI. For example, if you need a tool to remove background noise from audio recordings, just write the same in the search box, and a list of relevant tools will be displayed!
It also keeps you in the loop about newly released tools and the latest events and activities in the AI industry. Above the search box, there are two options – "Tools Added Today" and "News Added Today"- self-explanatory.
It is an incredibly user-friendly and resourceful AI tools directory, offering one of the largest databases of AI-powered applications.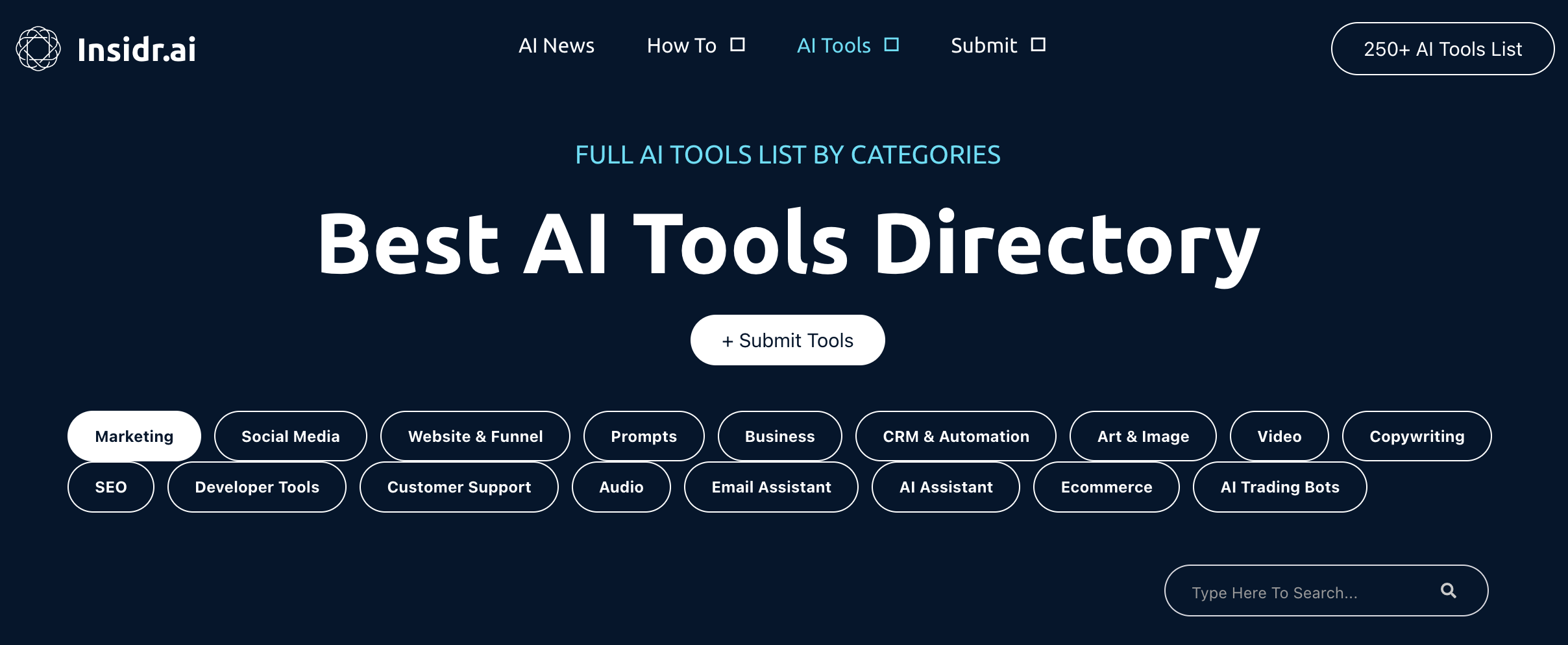 The fancy and futuristic design and interface of Insidr is probably the first thing that will catch your attention. This online directory has a wide range of 250+ AI tools. It includes the most popular and high-quality AI tools currently available.
Insidr also has an interesting blog section with plenty of guides and articles to use AI efficiently. Many of their posts cover trending topics, like how to use AI for marketing or start a profitable blog. So similar to Future Tools, this is also a platform that provides a list of AI tools and helps site visitors improve at using such tools.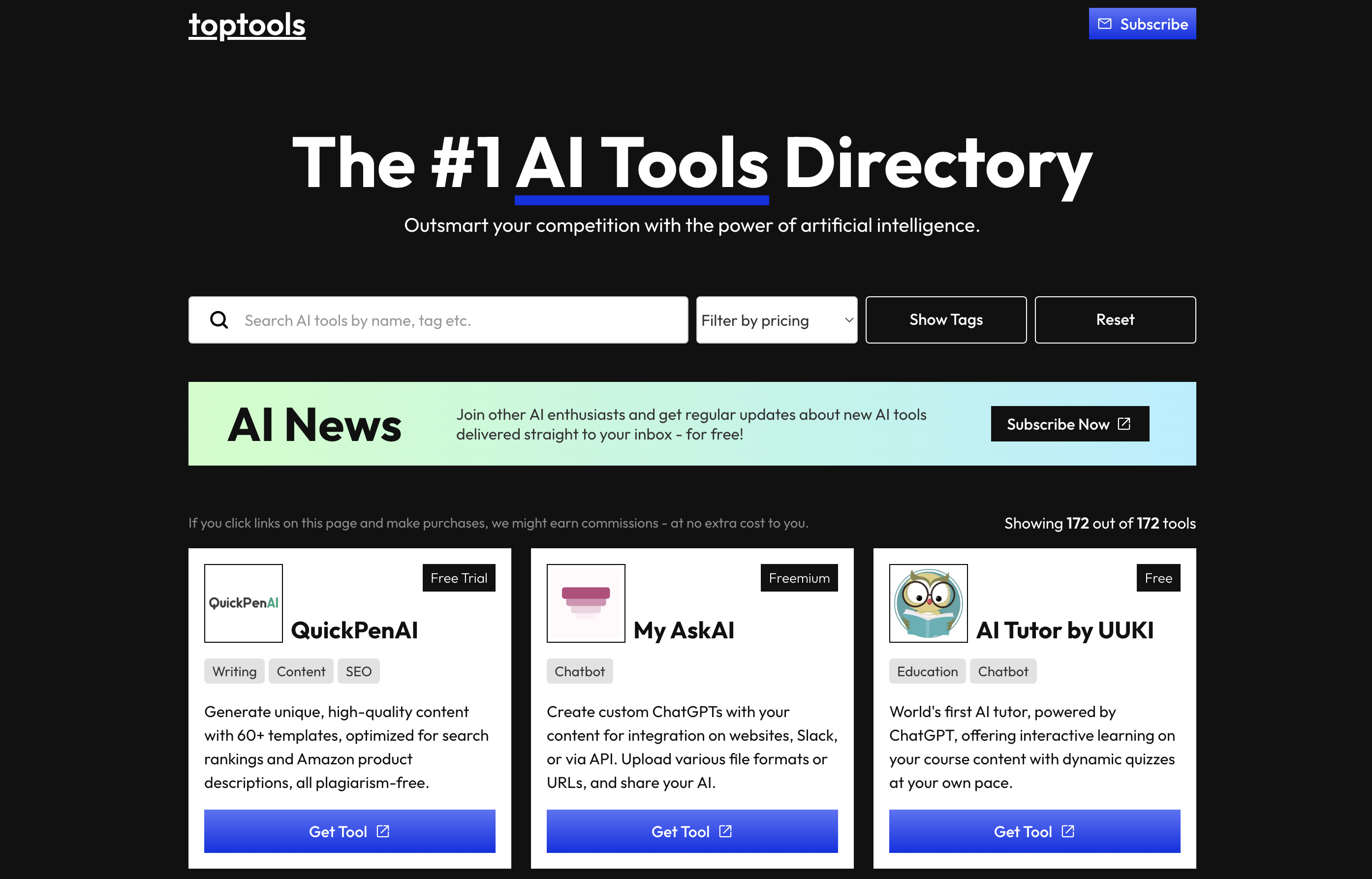 Top Tools is another excellent online AI tools directory that's really simple to use. It's a single-page website with dynamic search and display functionality. Jump into the website and browse their seemingly endless list of AI apps, or use the search box to find something specific. You can search by either the name of the app or by entering relevant tags. For example, if you're looking for AI tools to help you edit videos, you can type in 'video editing,' which will show you the best results.
You can also click the "Show Tags" button beside the search box to see all available tags and choose the one that best describes your requirements. Search results can be filtered by price, which is a neat feature when looking for free, paid, or freemium tools.
Apparently, the website doesn't use cookies or store personal data, so it might be good news for people concerned about online privacy. And you can also subscribe to their newsletter if you want info about new AI tools and related news delivered straight to your inbox.
Overall, Toptools is a simple but efficient platform for finding all AI tools.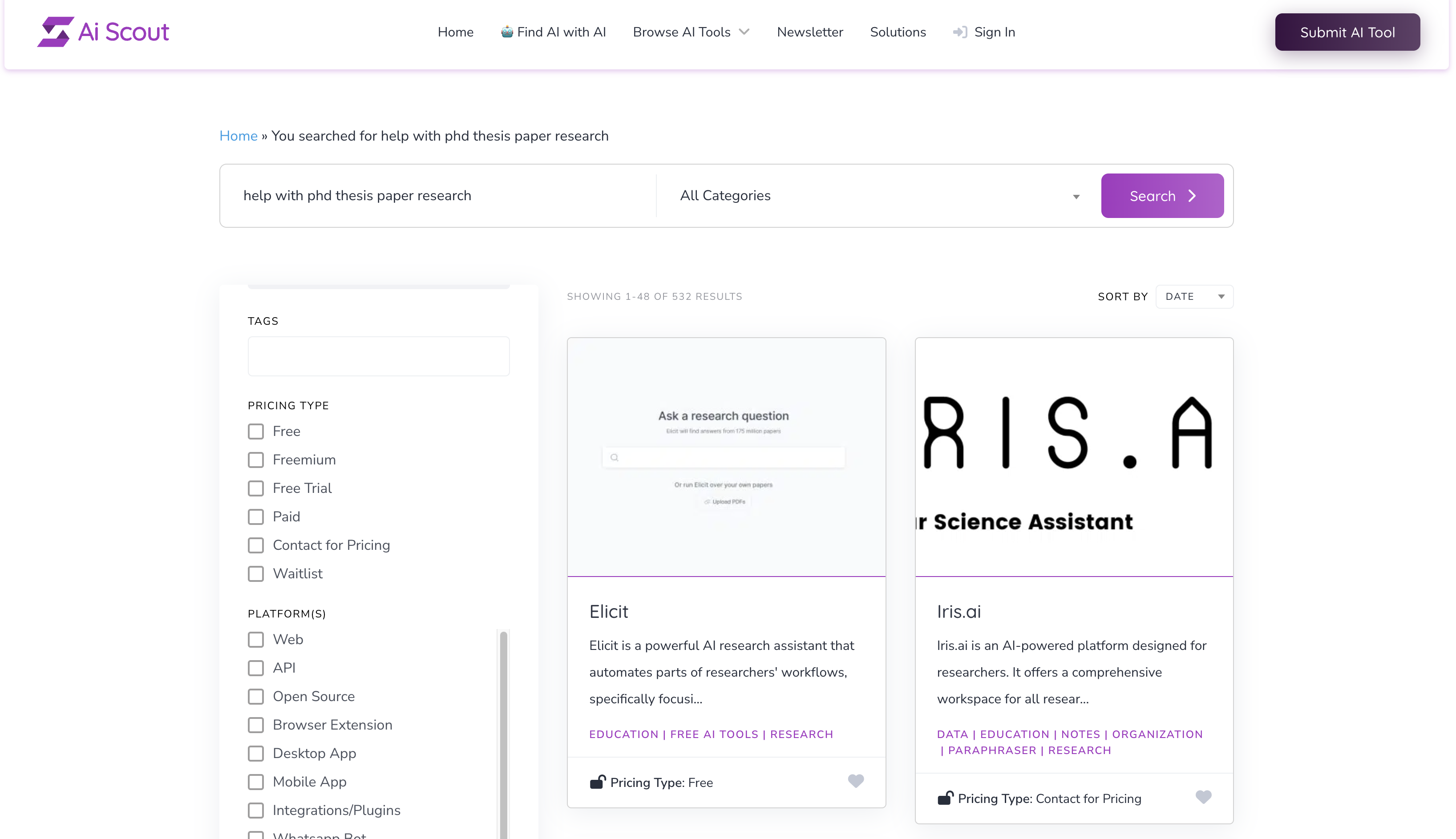 AI Scout is a remarkable online directory with many essential features, as discussed in the previous directories, plus a few unique and impressive functionalities. Its database contains 1404 tools at the time of writing.
Starting from the search feature, it's similar to Futurepedia, which means you can type whatever you want to do, and it will show you AI tools that can help with it, like "write a blog post" or "help with my research paper." Or you can check the full list of categories and pick a suitable option from there. Once the search results are displayed, one of the best things you'll notice is their filter options. Results can be filtered by Pricing and Platform.
In the price filter, apart from the usual free/paid/freemium options, they've also added 'Free Trial,' 'Contact for Pricing,' and 'Waitlist.'
Under the platform filter, there are 15 different options such as Web, Mobile, API, ChatGPT plugins, bots for other apps like Whatsapp and Telegram, etc. This really lets you refine your search and find specific tools that perfectly fit your requirements.
However, the one unique feature we really enjoyed, and we're certain that you will too, is the 'Find AI with AI' feature. AI Scout has an AI chatbot integrated into their website that helps you find AI tools. You can chat with it and explain what you're looking for, just like with a human, and it will guide you through discovering the perfect tool. It's like having a human librarian to help you in a huge library of AI tools!
Although the number of apps listed on AI Scout is nowhere near Futurepedia, it's still one of the best online directories with amazing features that make it easier to find that one tool you need among thousands of options.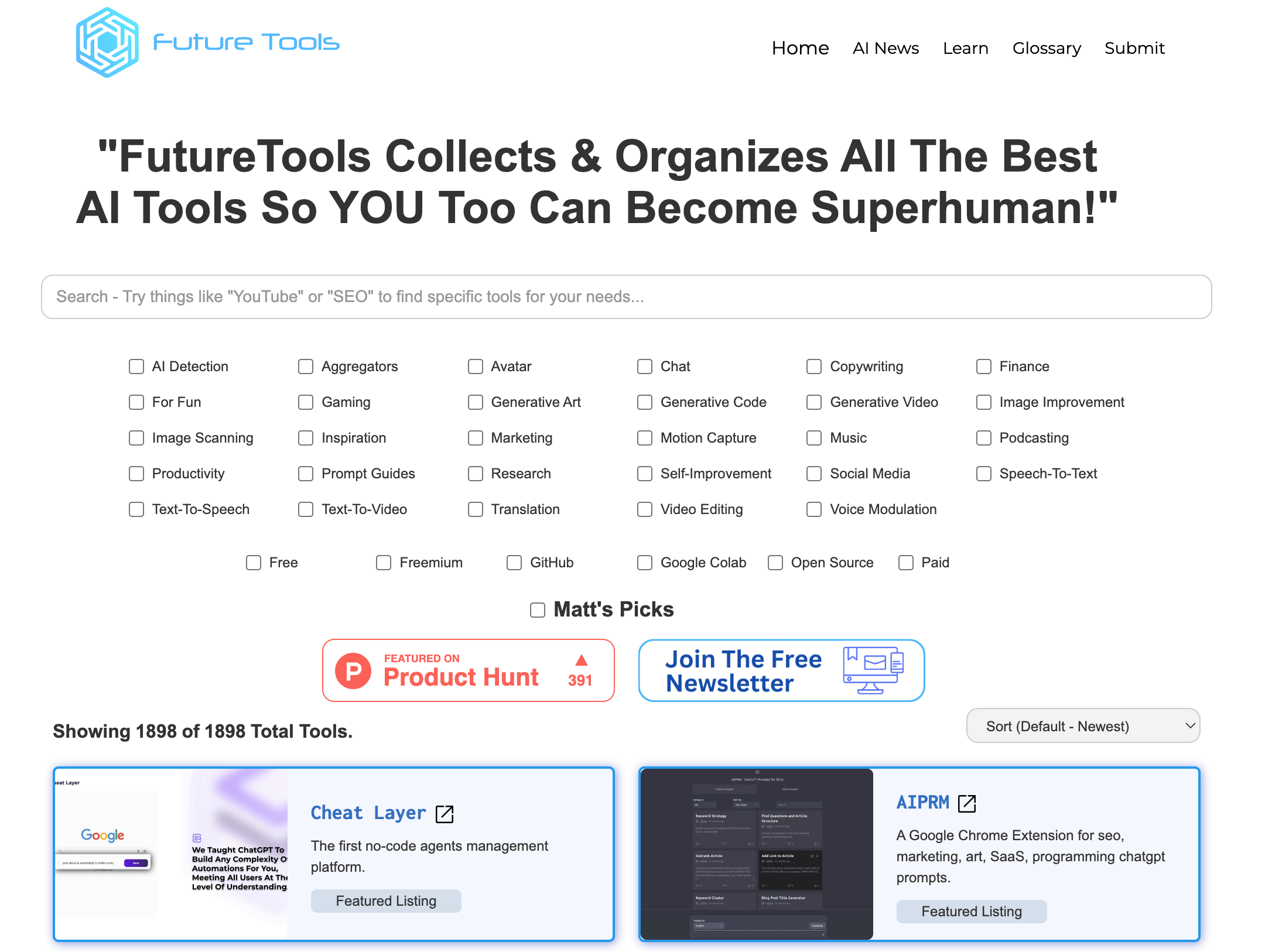 Future Tools is also quite a popular and comprehensive online directory that currently lists more than 1,800 AI tools. These tools are divided into 30 different categories, and you can also search for specific tools with keywords of your choice. For example, if you were to type SEO in the search box, it would automatically list the tools that have anything to do with search engine optimization.
The other cool thing about Future Tools is that it publishes AI news to keep people updated on industry trends. There's a learner's section where you can find articles and instructions on how to use different AI tools efficiently.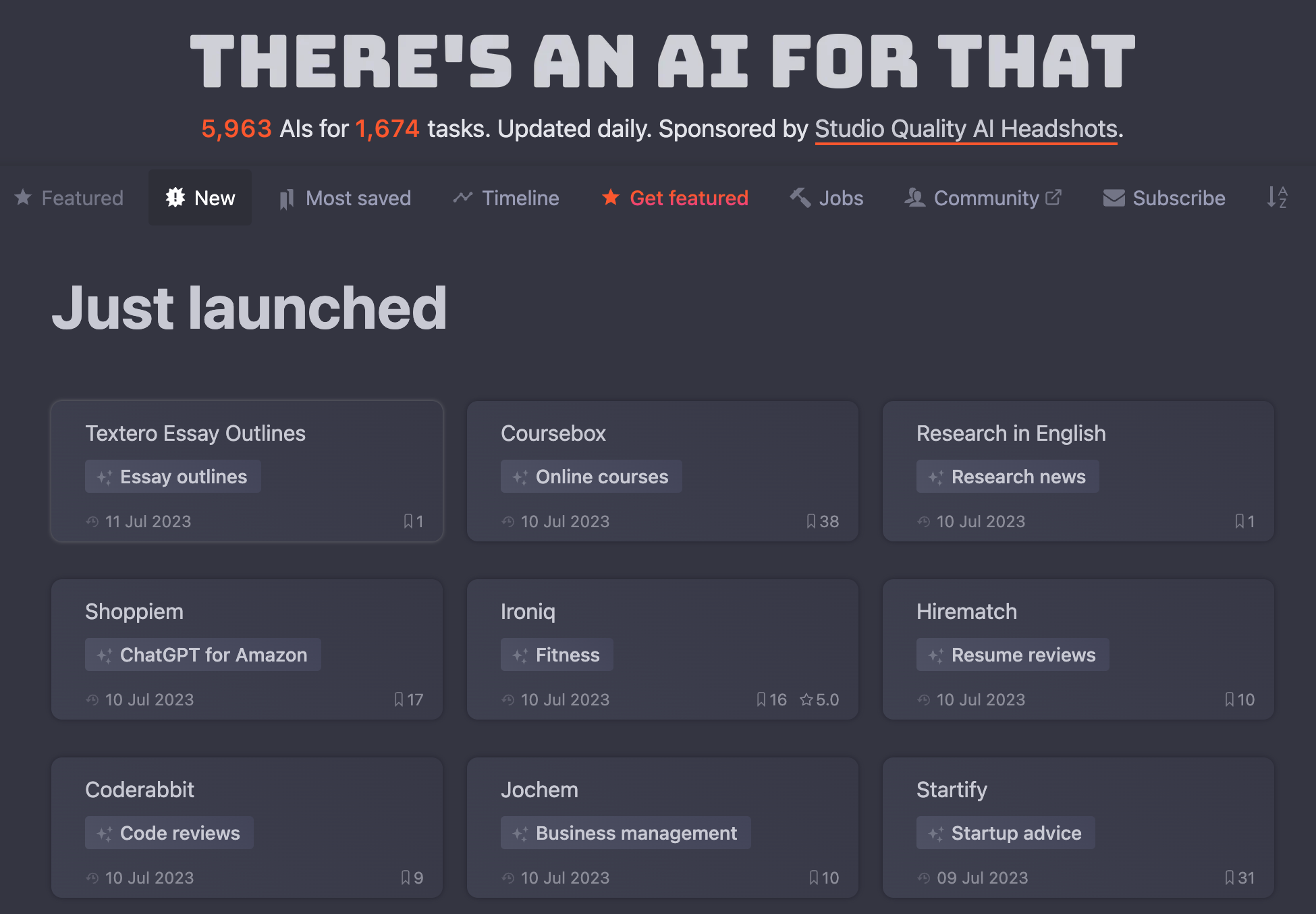 There's An AI For That is the final entry on our list, and it's got some pretty interesting features. The AI library is massive, with 5,642 tools at the time of this writing. Another unique aspect of this website is that the tools are listed in chronological order of their release date, from 2015 to the present date.
It's just really interesting to realize that AI tools have been around since 2015 and to simply explore some of the oldest tools and applications. But even when you're looking for something new or specific, various search and filter options help you find the perfect tool from their huge collection.
There are AI Tool Directories For Everything
It seems like there's an AI tool for just about anything these days. It's no longer just chatbots and image generators.
AI can help create video generators, voice generators, art generators, song generators, avatar generators, animations, presentations, social media posts, product descriptions, and much more.
There is an array of tools that can help with research, serve as a virtual business assistant, or provide valuable insights, depending on the range of features. Even though there are countless AI apps for business owners on the internet, these amazing online directories have made it easier to discover the best tools for all your needs.
No matter what kind of app you're searching for, you won't need to look further beyond the top 3 online AI tool directories listed in this post.
Read More: How Can I use AI in my Business