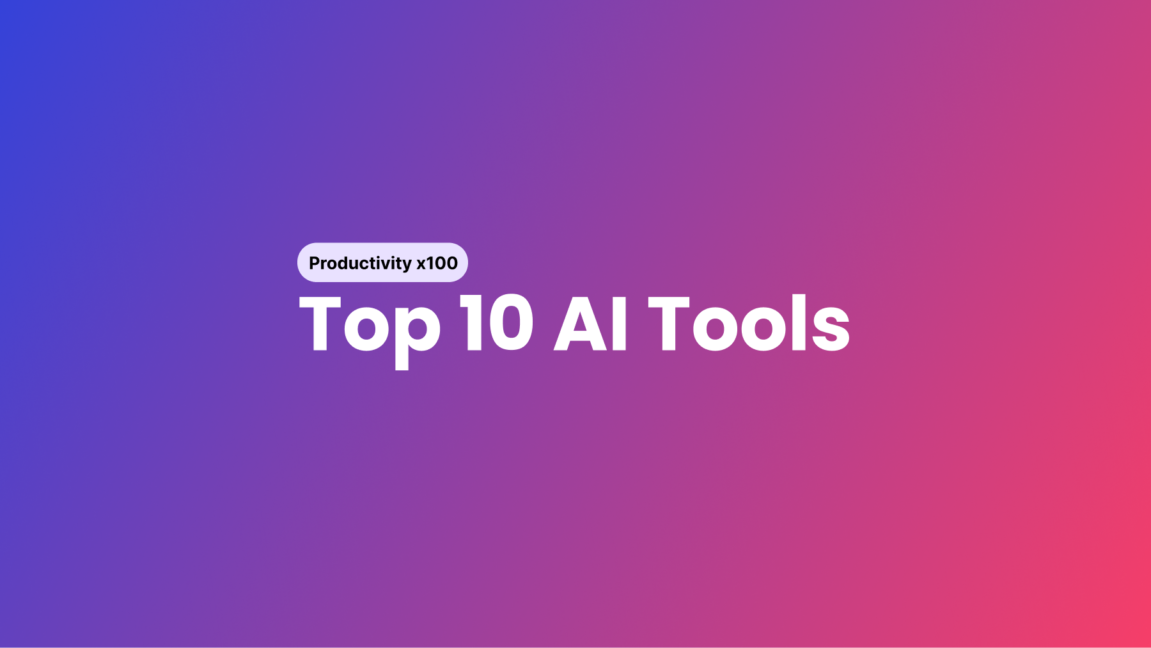 Top 10 AI Tools To Boost Your Productivity
Artificial intelligence (AI) tools have become increasingly popular in improving productivity by automating tasks, reducing human error, and saving time and resources. These tools leverage AI algorithms to assist with various aspects of work, from generating content to automating processes. In this article, we will explore the top 10 AI tools that can significantly enhance your productivity.
Flowrite is a tool for automating email communications powered by AI technology. Users are able to provide some brief written instructions about the contents and objective of the message, and Flowrite will automatically create a professional email in a matter of seconds
Features of Flowrite:
AI Email Assistant: Flowrite is an AI email assistant that focuses on helping you reduce writing time and create better emails.
Chrome Extension: Flowrite is a Chrome extension that attaches an AI writer next to your inbox for convenient use.
Ready-to-Send Emails: Flowrite turns short instructions into ready-to-send emails, making it easier to compose professional emails quickly.
Templates and Inspiration: Flowrite provides email templates and inspiration to help users write formal emails with confidence.
Affordable Pricing: Flowrite offers a 30-day free plan and affordable pricing options for continued use.
Beautiful.ai is a web-based presentation tool that uses artificial intelligence to design professional and engaging slideshows in minutes.
Features of Beautiful.ai:
AI-Powered Design: Beautiful.ai uses AI algorithms to automatically adjust the layout, colors, fonts, and animations of your slides to make them look beautiful. This feature can save time and effort for students who need to create visually appealing presentations quickly.
Smart Slide Templates: Beautiful.ai offers a range of customizable slide templates that can be adapted to different presentation needs. These templates are designed to be flexible and versatile, allowing users to add or remove elements as needed.
DesignerBot: DesignerBot is an AI-powered tool that can assist users in designing slides, brainstorming ideas, and generating text. It can help students overcome writer's block, generate creative ideas, and improve the overall quality of their presentations.
Collaboration and Sharing: Beautiful.ai allows users to collaborate on presentations with peers or colleagues in real-time. It also offers sharing options that allow users to share their presentations via email, social media, or embed codes.
Education Plan: Beautiful.ai offers a free annual Pro subscription for students who verify their .edu account. This plan provides access to all the features of Beautiful.ai, including AI-powered design, Smart Slide templates, and DesignerBot.
Heygen is an AI Video Generator based on the Surreal Engine. It is an innovative video platform that harnesses the power of generative AI to streamline your video creation process. With HeyGen, you can create an AI spokesperson video in minutes for corporate training, online learning, explainer videos, e-commerce campaign and much more!
Features of HeyGen:
Languages: 40+ languages in 300+ voices
Avatars: 120+ diverse human avatars
Templates: 300+ pre-made customizable video templates
Assets: Free-royalty music, graphic, and video assets
Face Swap: Upload your photo and swap your face onto the AI avatar
Talking photo: Upload your photo, type the text, and bring it to life
Amazon URL to video: Create a video from Amazon's url with just one click
Captions and translations: Auto captions and auto translations
Notion AI is an AI-powered writing assistant that can help users write, brainstorm, edit, summarize, and more. It is designed to augment users' thinking and help them save time or spend it more wisely. Notion AI is available to all users and can be prompted using the space bar, highlighting text and selecting "Ask AI", or via slash commands.
Features of Notion AI:
Summarization and Analysis: Notion AI can summarize important and actionable information from messy notes, making it easier for users to grasp the main points and key insights of the material. This feature can be particularly helpful for students who need to review large amounts of information in a short amount of time.
Editing and Translation: Notion AI can act as a hawk-eyed editor, catching mistakes in spelling, grammar, or even translation, to help ensure writing is accurate and actionable. This feature can be useful for students who need to improve their writing skills or for professionals who need to communicate effectively with a global audience.
Personalization: Notion AI can be customized to meet individual needs and preferences. It can be used to generate personalized improvement plans, respond to questions from students, and offer specific comments. This feature can help students receive personalized feedback and improve their learning outcomes.
Integration and Collaboration: Notion AI can be integrated with other tools and platforms, making it easier to streamline workflows and collaborate with peers or colleagues. This can be beneficial for students working on group projects or professionals collaborating on reports or presentations.
Writing Assistance: Notion AI offers AI-powered features for text generation, including paraphrasing, summarizing, and prompts. These tools can assist users in improving their writing skills and generating high-quality content.
Fireflies.ai is an AI-powered meeting assistant that can help users transcribe, summarize, search, and analyze voice conversations.
Features of Fireflies.ai:
Meeting Transcription: Fireflies.ai can automatically record and transcribe meetings across several video-conferencing apps, dialers, and audio files. Users can easily invite Fireflies.ai Notetaker to meetings on their calendar, and Fireflies.ai captures video + audio, and generates transcripts in minutes. Integrates with apps like Google Meet, Zoom, Teams Webex, Ringcentral, Aircall and other platforms.
Collaboration and Sharing: Fireflies.ai allows users to collaborate with their co-workers and share important parts of calls into shareable soundbite snippets that they can share straight from their dashboard. Fireflies.ai takes an integration-first approach to all the collaboration platforms out there.
Self-Updating Knowledge Base: Fireflies.ai creates a self-updating knowledge base from all voice conversations, and users can easily organize meeting recaps by department and make information quickly discoverable. Users can set custom privacy controls to ensure only the meeting information that they want is visible to appropriate team members.
Advanced AI Technology: Fireflies.ai uses advanced AI technology to analyze and understand spoken language patterns and accents and then convert them into text. This feature can be particularly helpful for users who need to transcribe meetings accurately and efficiently.
Perplexity AI is an AI-powered conversational search engine that can help users find information on a wide range of topics quickly. It is designed to provide suggestions and sources in response to user queries, and its founders claim that it is more accurate than other similar tools.
Features of Perplexity AI:
AI-Powered Search: Perplexity AI uses AI algorithms to provide accurate and relevant search results to users. It can search the web for information on a wide range of topics and provide sources and citations to support the answers it provides.
Customizable: Perplexity AI can be customized to meet individual needs and preferences. It can be used to generate personalized improvement plans, respond to questions, and offer specific comments. This feature can help users receive personalized feedback and improve their learning outcomes.
Easy to Use: Perplexity AI has an intuitive user interface that can be accessed through its website or mobile app. Users can simply type their question into the search bar and press Enter to get answers.
Reliable: Perplexity AI's answers are always supported by sources and citations, which users can easily click to verify the answers it provides. This feature ensures that users can trust the information they receive from Perplexity AI.
Cody AI is an intelligent AI assistant designed to support businesses in various aspects. It is an intelligent AI assistant designed to support businesses in various aspects. It is like ChatGPT but with the added benefit of being able to train it on your business, your team, your processes, and your clients using your own knowledge base.
Features of Cody AI:
Instant Answers To Your Business Questions: Cody analyzes your company's accumulated documents and acts as an expert on your company processes. It provides quick and accurate answers to your business-related queries, saving you time and effort.
Upload Any Data & Build Your Knowledge Base: With Cody, you can securely upload various types of documents such as PowerPoints, PDFs, or crawl an entire website. Cody uses this information to customize its responses and provide intelligent answers based on your database.
Building Bots: Cody AI allows you to create powerful and customized AI bots for different use cases. You can follow step-by-step instructions and expert advice to build bots tailored to your specific business needs.
API Integration: Cody AI provides an API that allows you to integrate Cody into your applications and services. You can access a list of bots, manage conversations, and send messages using the intuitive API endpoints.
Headshot AI Studio is an AI-powered platform that generates professional headshots for personal and professional use. The platform uses artificial intelligence to create digital portraits that resemble real photographs. The AI algorithm creates a model that tries to recreate an individual's face in digital art with photorealistic features. Headshot AI Studio offers a range of styles in their AI-generated headshots, and their goal is to provide a solution that delivers outstanding headshots in a convenient and cost-effective manner, tailored to meet your needs and preferences.
Features of Headshot AI:
AI-Generated Professional Headshots: This platform utilizes artificial intelligence to produce realistic digital portraits suitable for both personal and professional use.
Diverse Style Options: The AI-powered system offers a wide range of styles for the generated headshots, allowing users to find the perfect match for their preferences.
Tailored Convenience and Affordability: The solution provides outstanding headshots that are customized to individual needs and preferences, all while being delivered conveniently and cost-effectively.
Studio Photography Expertise: With a strong background in studio photography, the platform understands the specific preferences and expectations of customers when it comes to high-quality headshots.
Advanced Editing and Customization: Users have access to advanced editing tools and customization options, enabling them to fine-tune the headshots according to their unique requirements.
Specific Attributes Generation: The AI-powered platform can create headshots with specific attributes as needed, ensuring that users get precisely the appearance they desire.
Surfer AI is an AI-powered content writing tool that makes creating SEO-friendly content easier and faster. It uses artificial intelligence to perform competitive research, structure your article, and produce it within minutes – all without compromising accuracy or readability.
Features of Sufer SEO:
On-page optimization: Surfer SEO analyzes your website and provides you with a list of recommendations to optimize your pages for search engines.
Content editor: Surfer SEO's content editor helps you write optimized content that ranks well in search engine results.
Keyword research: Surfer SEO's keyword research tool helps you find the best keywords to target for your website.
SERP analyzer: Surfer SEO's SERP analyzer tool helps you analyze the top-ranking pages for your target keyword and provides you with insights on how to outrank them.
Audit tool: Surfer SEO's audit tool helps you identify technical issues on your website that may be affecting your search engine rankings.
Phind is a search engine designed to cater to developers and technical questions. It differs from typical AI assistants as it offers direct and comprehensive answers to user queries. Powered by large AI language models, Phind pulls information from the internet, ensuring its responses are up-to-date and relevant. The search engine intelligently generates answers, including relevant code snippets, by aggregating information from multiple sources. This approach guarantees accuracy and depth in its explanations.
Features of Phind:
Customize your Search Results using Filters: You can artificially change how results are ranked by adding domain names and keywords. If you have a rule with the domain "github.com", phind will apply it to all github.com results.
Bang Search Shortcuts: You can easily search on different sites by adding bang shortcuts to your query.
Mobile App: Phind offers progressive web app support. You can add phind to your home screen and use it as a native app.
Powered by large AI language models: Unlike some other AI assistants, Phind pulls information from the internet and is always up to date. It's smart enough to generate answers based on information from multiple sources.