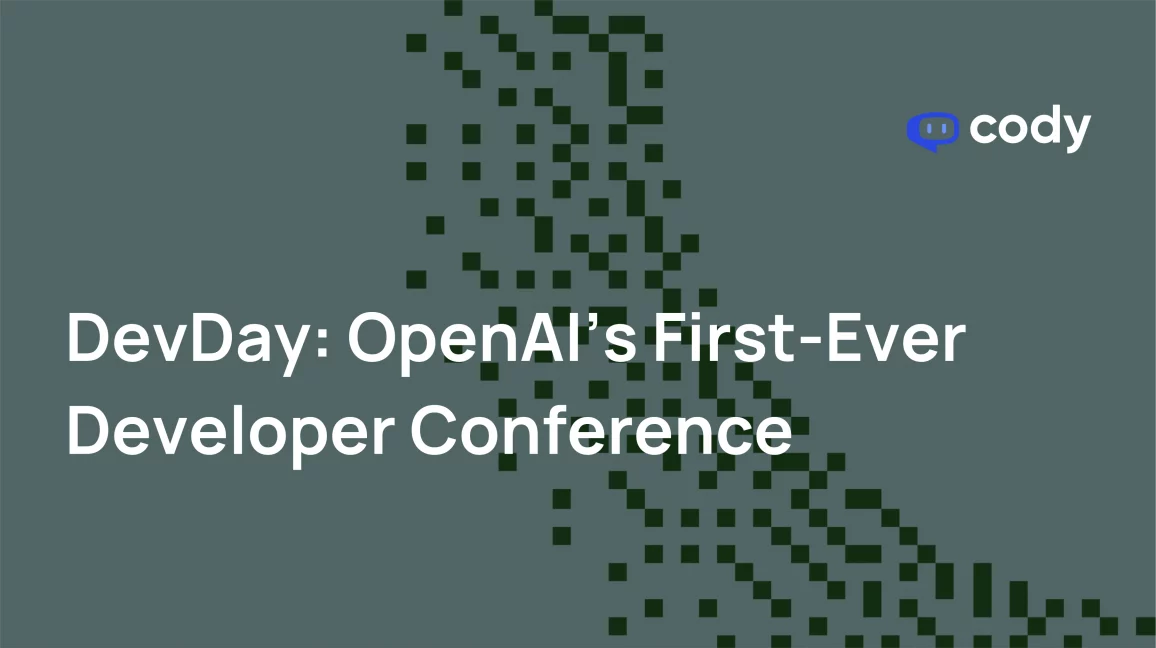 OpenAI DevDay Announcements [Live Stream]
OpenAI DevDay, a one-day developer conference scheduled for November 6, 2023, in San Francisco, is a game-changer for developers, tech fans, and AI lovers. It's like a lively meeting where developers from everywhere can come together, learn, and collaborate with the OpenAI team to understand where AI is headed. 
We're looking forward to showing our latest work to enable developers to build new things.

— Sam Altman, CEO of OpenAI
Let's find out why OpenAI's first developer conference matters a lot and how it can reshape the future of AI development.
What is OpenAI DevDay?
OpenAI's DevDay is a highly anticipated developer conference scheduled for November 6, 2023, in San Francisco. This inaugural one-day event will unite hundreds of developers worldwide. 
A unique opportunity to engage with OpenAI's team, DevDay will serve as a platform for developers to get a sneak peek at upcoming tools. In-person attendees can participate in enlightening breakout sessions led by OpenAI's technical experts. The event promises a day of insights, collaboration, and exploration in the field of artificial intelligence.
What Announcements to Expect from OpenAI DevDay?
OpenAI DevDay is a highly anticipated developer conference. Attendees can anticipate an intellectually stimulating and engaging event. The day will be filled with a diverse range of activities planned to provide valuable insights into artificial intelligence. Here's what one can expect from the event: 
Keynote Speeches
DevDay will feature keynote speeches by prominent AI researchers and experts. These speeches will offer an in-depth exploration of the latest AI business developments. The topics may range from discussions on GPT-4 to the future of AI technology. The event will also discuss ethical challenges and responsibilities associated with AI development and deployment.
Hands-on Workshops
Attendees can participate in hands-on workshops and gain practical experience with cutting-edge AI tools and apps. These workshops will help developers explore how to make the most of AI in various domains.
Live Demos
OpenAI will showcase its latest advancements through live demos in DevDay. Attendees can see AI technologies in action. This way, they can gain a firsthand understanding of their capabilities and possible uses.
Networking Opportunities
DevDay provides a platform for attendees to network with industry leaders, fellow developers, and AI enthusiasts. These connections can lead to collaborations, knowledge exchange, and future opportunities in the field of AI.
Here's Rowan Cheung, Founder – The Rundown AI, expressing his curiosity and enthusiasm about OpenAI's DevDay Conference:
I'm going to DevDay and OpenAI just emailed me to make sure they have my ChatGPT-associated email.

This is to keep my account "up-to-date with the latest conference features and announcements".

Something big is coming to ChatGPT on Nov. 6th 👀 pic.twitter.com/9VJPdAdAka

— Rowan Cheung (@rowancheung) November 2, 2023
OpenAI DevDay – Who is it For?
OpenAI's DevDay is designed for developers, tech enthusiasts, and AI specialists. This one-day conference is expected to gather hundreds of developers worldwide to preview new tools, exchange ideas, and participate in breakout sessions. 
So, whether you're a developer looking for insights or a passionate AI advocate, DevDay will surely offer you an enriching experience of the latest advancements in artificial intelligence.
Why is OpenAI DevDay Important for Developers?
OpenAI's DevDay serves as a platform for developers to take part in the next wave of AI innovation. It pushes the boundaries of what's possible in AI app development. So, it is an invaluable event for developers:
Gives Access to Advanced Models
OpenAI's API has been continually updated to include their most advanced models, such as GPT-4, GPT-3.5, DALL·E 3, and Whisper. Developers have access to cutting-edge AI capabilities through a simple API call. Through this event, developers can learn to utilize state-of-the-art AI in their projects without the need for complex implementations.
Promises Extensive User Base
Over 2 million developers currently utilize OpenAI's AI models for many use cases. This extensive user base proves that OpenAI's technology is practical and versatile. These traits make the event a valuable resource for developers across different domains.
Invites Global Developer Community
DevDay aims to bring together developers from around the world. It allows them to connect, share ideas, and collaborate with like-minded professionals. Consequently, they can expand their network and exposure to diverse perspectives and experiences.
Provides Deep-Dive Technical Insights
OpenAI's experienced technical staff will lead breakout sessions in the event. So, the event is expected to offer developers a unique opportunity to delve into the highly technical aspects of AI development and grasp the intricacies of AI implementation.
Focuses on AI Innovation
Unlike conventional tech conferences, DevDay is centered solely on AI innovation. It's dedicated to providing developers with the tools and knowledge they need to exceed their expectations from AI development. The event also makes newbie developers part of a vibrant AI developer community.
How to Live Stream OpenAI DevDay?
Despite the registrations for in-person attendance at the DevDay conference being closed, you can join the live stream at 10:00 AM PST on November 6, 2023. You can also watch the OpenAI DevDay event live here to catch the latest announcements revealed at the conference:
More Updates Soon on OpenAI's DevDay Announcements
OpenAI's DevDay will offer developers access to advanced AI models, a global community, technical insights, and a focus on innovation. The event can empower developers to redefine AI application development and create groundbreaking applications. DevDay will show them how to explore new and exciting areas in AI and discover future innovations.
Read More: Top 6 AI Tool Directories in 2023