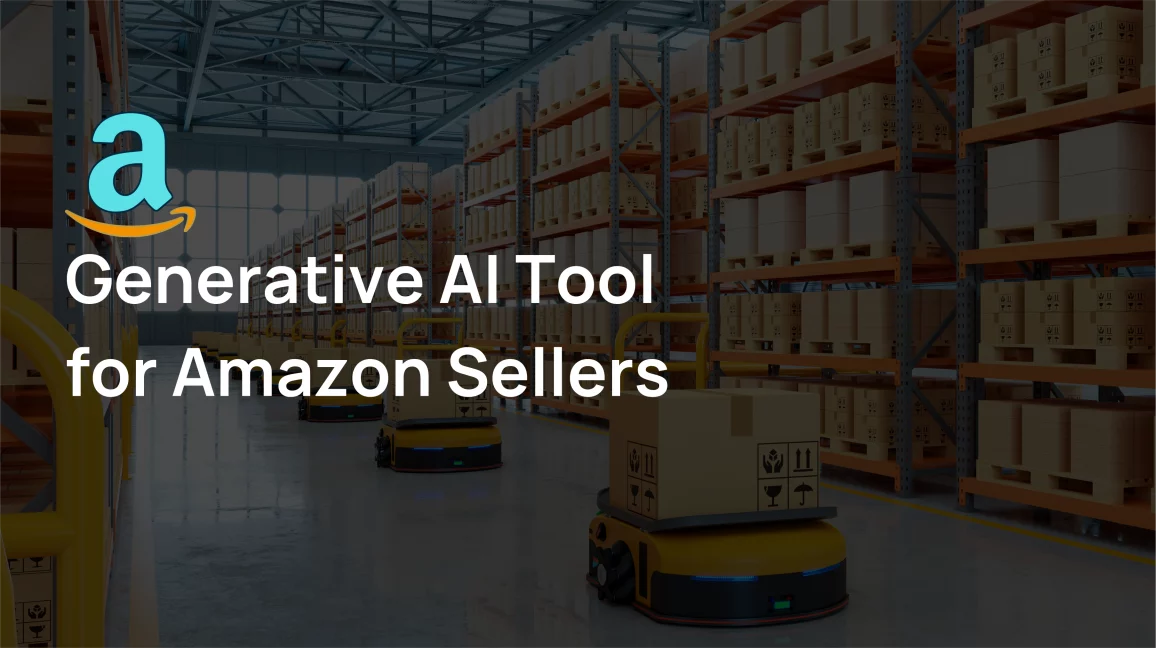 What Does Amazon's Latest Generative AI Tool for Sellers Offer?
Amazon's latest move in the e-commerce game is its generative AI for sellers, launched at its annual seller conference, Amazon Accelerate 2023. Thanks to new AI capabilities, creating compelling, useful product listings just got a whole lot simpler! In this blog, we'll find out what it is all about.
Amazon's Generative AI for Sellers
Amazon has stepped up its selling game by bringing generative AI for sellers into the mix. Thanks to its newly introduced set of AI capabilities, Amazon sellers can create detailed and engaging product descriptions, titles, and listing details more easily. 
Yes, that's right! No long, complicated processes. Sellers won't need to fill out lots of different info for each product anymore. It'll be much quicker and simpler to add new products. This way, they can enhance their current listings, giving buyers more assurance when making purchases. 
"With our new generative AI models, we can infer, improve, and enrich product knowledge at an unprecedented scale and with dramatic improvement in quality, performance, and efficiency. Our models learn to infer product information through the diverse sources of information, latent knowledge, and logical reasoning that they learn. For example, they can infer a table is round if specifications list a diameter or infer the collar style of a shirt from its image," shares Robert Tekiela, vice president of Amazon Selection and Catalog Systems
What Exactly Does Amazon's Generative AI for Sellers Do?
Here's what Amazon's new AI capabilities bring in for sellers:
Sellers only need to submit a brief summary of the item in a few words or sentences, and Amazon will create high-quality text for their review. 

If they want, sellers can edit them.

They can just submit the automatically created content to Amazon's catalog. 
The result? High-quality listings for sellers. And guess what? Shoppers will have a better time finding the product they want to buy. 
How Does Amazon AI for Sellers Work?
Amazon has used machine learning and deep learning to automatically extract and improve product information. More specifically, it uses large language models (LLMs) to create more thorough product descriptions. But why LLMs? Well, these machine learning models are trained on vast volumes of data. So, they can detect, summarize, translate, predict, and generate text and other material. 
Note that the American e-commerce giant didn't say exactly what information it used to teach its LLMs. However, it appears that the company might be using its own listing data. 
The use of generative AI models at such a large scale, however, raises certain concerns: the propensity to generate untrue, erroneous information, plus other errors that may go unnoticed unless a human checks them. 
Nonetheless, over the past few months, many sellers have tested Amazon's newest AI products, and preliminary feedback suggests that the majority of them are actively using the AI-generated listing content for them. 
Conclusion
Amazon is starting to make it simpler for listing creators to use AI, which is just one of the ways it is assisting sellers in starting and growing profitable businesses. This is only the start of how it intends to employ AI to enhance the seller experience and support more successful sellers.
Read More: AI Studio by Meta