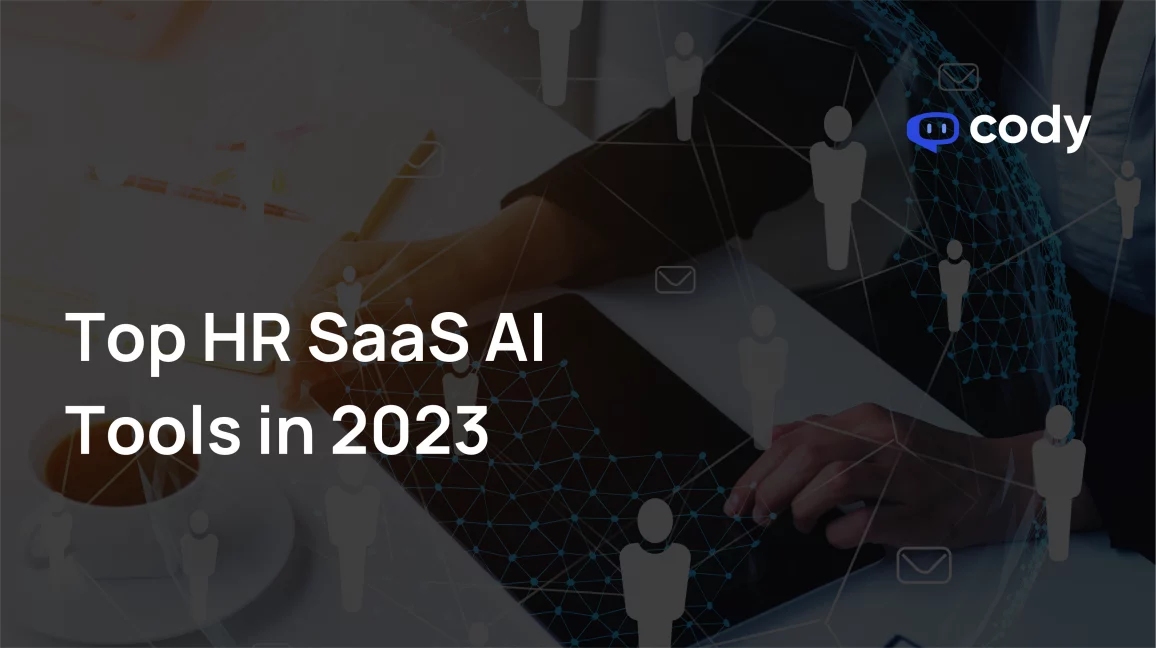 7 Most Popular HR AI Tools in 2023 [SaaS Version]
Artificial Intelligence (AI) is rapidly changing the human resource field. With over 73% of companies planning to invest in AI for business recruitment automation and over 85% of HR professionals foreseeing AI's role in the recruitment process, HR AI tools are extensively driving this change in the SaaS industry.
What are HR AI Tools for SaaS?
HR AI tools are cloud-based SaaS solutions that leverage artificial intelligence (AI) to enhance various aspects of human resources management. These tools and software are designed to streamline HR processes, improve decision-making, and provide data-driven insights to help organizations better manage their workforce.
Which are the Best HR AI Tools for SaaS in 2023?
Here are the top 7 SaaS AI Tools for HR that must be on your bucket list in 2023:
1. Effy AI
Our number one pick is Effy AI. It is a performance assessment and 360-degree feedback tool driven by AI. With ready-to-use templates and AI-generated reports, it offers the quickest method for conducting staff reviews. It works well for businesses that are just beginning to develop review processes and for those that perform reviews irregularly. 
Key Benefits 
Tools for performance review assistance

AI-produced review summaries using responses

Multiple assessment questionnaires

Tailored navigation menu structure according to roles

Fun emoji stickers and animal avatars
Pricing
Free for up to 10 reviews

$75/month for up to 30 reviews

$100/month for up to 300 reviews

Starts at $10,000 flat price for enterprises
Rating
4.9/5
2. Workable
Workable offers sophisticated AI awareness of your particular search criteria and access to a thorough boolean search of 400+ million profiles. Your job description is reviewed by its AI Recruiter, which then searches for the top existing and passive prospects. Before you publish, you'll have a list of the leading candidates.
Key Benefits 
Make candidate screening with automation smoother

Run ad campaigns for candidates on Facebook and Instagram 

Utilize AI algorithms to find the best passive candidates

Get real-time analytics for data-driven decisions

Use predictive hiring models with great support
Pricing
Starter: $149/month for up to 50 employees

Standard: starts at $299/month

Premier: starts at $599/month
Rating
4.6/5
3. Paradox AI 
Candidates are hired faster than ever thanks to Paradox AI, which automates the tasks your teams don't have time for. For high-volume recruiting managers and candidates, it offers the feature-rich Conversational ATS, which streamlines and expedites the hiring process.
Key Benefits 
Make interview scheduling effortless

Give attractive offers and comprehensive onboarding materials

Manage job offers and start an easy onboarding process for new hires

Make the application process simpler for candidates with text message apps
Pricing
Book demo for pricing 
Rating
4.7/5
4. Leena AI
Leena AI's conversational platform with AI capabilities aids businesses in creating great employee experiences. It swiftly resolves employee problems, immediately responds to employee questions, streamlines daily HR processes, and manages employee requests. It also has AI employee engagement software, which uses conversational periodic surveys to gauge how engaged your employees are throughout their careers and provides you with real-time actionable insights. 
Key Benefits 
Improve HR workflows and processes, making tasks like recruitment and onboarding more efficient

Automates FAQ responses, decreasing the need for manual support

Remote onboarding to get new hires integrated when working from a distance

Integration with various workplace software allows systems to work together
Pricing
Book demo for pricing
Rating
4.5/5
5. Fetcher AI
Fetcher's full-service platform for sourcing applicants, automating the hiring process, and delivering qualified, interested individuals right to your inbox does this quickly. This AI-powered platform learns the candidate preferences of your business before locating the best candidates, particularly for you. Even email outreach campaigns are automated by the software to secure interviews with candidates for you and your team.
Key Benefits 
Make talent acquisition with automation streamlined 

AI-driven talent profiling for peer benchmarking

Customizable automated performance reviews and team feedback loops

Centralized tracking of KPIs and objectives
Pricing
Book demo for pricing
Rating
4.7/5
6. UKG Pro
For your business's strategic personnel decisions, UKG Pro employs robust data to produce meaningful reports in real time. With strong AI and predictive analytics, it enables customized reports and data visualizations that can be used to get to know and develop your employees.
Key Benefits 
Instantaneous key performance indicators (KPIs)

Tailored workforce reports

Integrated analytics with actionable insights

Improved data visualizations
Pricing
Book demo for pricing
Rating
4.2/5
7. Zoho Recruit
With the help of powerful AI recruitment tools from Zoho Recruit, you can help find top talent and evaluate candidates' behaviors. Its Source Boosters are a potent AI tool for recruitment that streamlines the hiring process. You only need to enter your job specifications. Zoho Recruit will immediately search job boards like Resume Library, Nexxt, Monster, Career Builder, and Dice for applicant profiles that fit your requirements. Furthermore, its Resume Parser Mapping tool enables you to standardize and match the structure of the parsed resume with the format accepted by your company.
Key Benefits 
Make recruitment with automated job postings to 100+ job boards smoother

Decrease time-to-hire with efficient processes

Stay candidate-centric with

chatbot assistant

Zia's communication

Increase productivity with built-in automation for reminders, meetings, and more

Gain real-time insights with configurable Talent Analysis and use machine learning for forecasting
Pricing
15-day free trial available 

Forever free plan available 

Standard: $25/month

Professional: $50/month

Enterprise: $75/month
Rating
4.4/5
[Checklist] How to Choose the Best HR AI Tools for SaaS Business?
Choosing the best HR AI tools for SaaS involves a thoughtful and systematic selection process. Here are steps to help you make the right choice:
Define Your Needs and Objectives
Clearly define your organization's HR needs, objectives, and goals. Determine what specific HR processes you want to improve with AI tools.
Budget Considerations
Establish a budget for HR SaaS AI tools. Ensure it aligns with your organization's financial capabilities.
Scalability
Consider whether the tool can scale with your organization's growth. Ensure it can accommodate your current and future workforce size and needs.
User-Friendliness
The tool should be user-friendly for both HR professionals and employees. Ensure it has an intuitive interface and provides a positive user experience.
Integration Capabilities
Check if the HR SaaS tool can integrate with your existing systems (e.g., payroll, time tracking, ERP) to facilitate data exchange and reduce redundancy.
Customization
Look for tools that allow customization to adapt to your specific HR processes and policies.
AI Capabilities
Evaluate the AI features and capabilities of the tool. Consider what AI technologies (machine learning, NLP, predictive analytics) it uses and how they can benefit your HR processes.
Data Security and Compliance
Ensure the tool adheres to data security best practices and complies with relevant regulations, especially if you're dealing with sensitive HR data.
Vendor Reputation
Research the vendor's reputation, customer reviews, and case studies. Ask for references or contact organizations that have used the tool.
Support and Training
Assess the level of customer support and training offered by the vendor. It's important to have access to assistance when needed.
Trial Period
Whenever possible, take advantage of a trial period or demo to test the tool within your organization. This will give you a firsthand experience of its functionality.
Feedback and Input
Involve HR professionals and other relevant stakeholders in the selection process. Gather their input and feedback to ensure the tool aligns with their needs.
ROI Analysis
Conduct a return on investment (ROI) analysis to determine how the tool will impact your HR processes and whether it justifies the cost.
Long-Term Viability
Consider the vendor's long-term viability and commitment to product development and updates. You want a tool that will evolve with technology and industry trends.
Contract Terms
Carefully review the contract terms, including subscription duration, pricing structure, and any exit clauses.
Implementation Plan
Discuss the implementation process with the vendor. Ensure there is a well-defined plan for onboarding and training.
Data Migration
If you're transitioning from existing HR systems, ensure the tool supports smooth data migration.
User Feedback Loop
Plan for regular feedback and evaluation with end-users to continuously optimize the tool's use and address any concerns or issues.
Read More: Top 11 AI Tools for Marketing in 2023
The Bottomline
In 2023, seven HR AI tools lead the charge, offering innovative workforce management solutions. From performance assessments with Effy AI to talent sourcing with Fetcher AI and employee experience enhancement with Leena AI, these tools are changing HR practices for good, making recruitment a smoother process and providing data-driven insights.
Check here: How Can Cody AI Help Your Business?