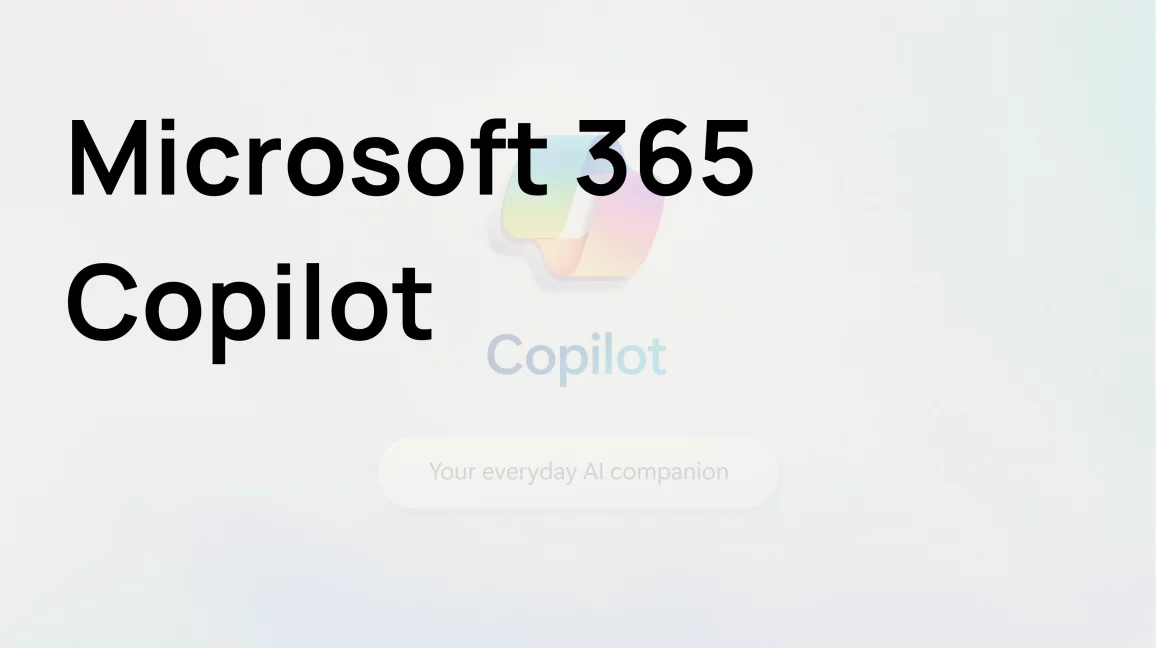 Microsoft Copilot: The Latest AI in Business
Imagine having a virtual assistant right there in your Microsoft 365 apps, like Word, Excel, PowerPoint, Teams, and more. As AI in business, Microsoft Copilot is here to make your work lives easier and more efficient. Let's find out what it's all about!
Microsoft Copilot's Impact on Your Daily Workflows
Think about it: you're in a meeting and turn to Microsoft Copilot for answers related to the agenda. What happens next is that Copilot doesn't just give you a generic response; it brings together insights from past email exchanges, documents, and chat discussions. It's like it remembers every detail, all rooted in your unique business context. 
Microsoft Copilot in Action Across Apps
Microsoft Copilot is designed to be your collaborator, integrated into Word, Excel, PowerPoint, Outlook, Teams, or other Microsoft 365 apps you use daily. Whether you're using Outlook to write emails or working on a presentation in PowerPoint, Copilot offers a shared design language for prompts, refinements, and commands.  
But Copilot's capabilities don't end there. It can command apps, enabling actions like animating a slide, and it's proficient at working across applications, effortlessly translating a Word document into a PowerPoint presentation.
Integration With Business Chat: A Game-Changer for Workplace Efficiency
Another key component of Copilot's integration is through Business Chat, which operates across LLMs (Large Language Models), Microsoft 365 apps, and your own data. Copilot can perform various NLP (Natural Language Processing) tasks thanks to its deep learning algorithm. Moreover, the integration gives real-time access to your business content—think documents, emails, calendars, chats, meetings, and contacts. 
This combination of your data with your immediate working context, whether it's your meeting, emails you've exchanged, or chat convos from last week, leads to precise and contextual responses. Microsoft 365 Copilot streamlines your workflow and improves your skill set, making your work life smoother, more creative, and way more efficient. 
A Foundation of Trust
Microsoft Copilot has been meticulously architected to uphold the standards of security, compliance, and privacy. It is integrated into the Microsoft 365 ecosystem. So, Copilot naturally follows your organization's security and privacy rules, whether it's two-factor authentication, compliance boundaries, or privacy safeguards.
The Power to Learn and Adapt
Copilot is designed to be a continuous learner. It adapts and learns new skills when it faces new domains and processes. For instance, with Viva Sales, Copilot can learn to connect with customer relationship management (CRM) systems. It can pull in customer data, such as interaction and order histories, and incorporate this information into your communications. 
Copilot's knack for continuous learning ensures that it won't stop at 'good'; it will aim for 'exceptional' as it evolves, becoming even more precise and capable over time.
Conclusion
The future of work is here, and it's called Microsoft 365 Copilot. Leveraging LLMs and integrating them with your business data, Copilot transforms your everyday apps into something extraordinary, unlocking many amazing possibilities. 
Copilot supercharges your productivity, always understands the context, keeps your data safe, and offers a consistent experience. Plus, it's a quick learner, adapting to your business needs. With Copilot by your side, the future of work looks more intelligent and efficient than ever!