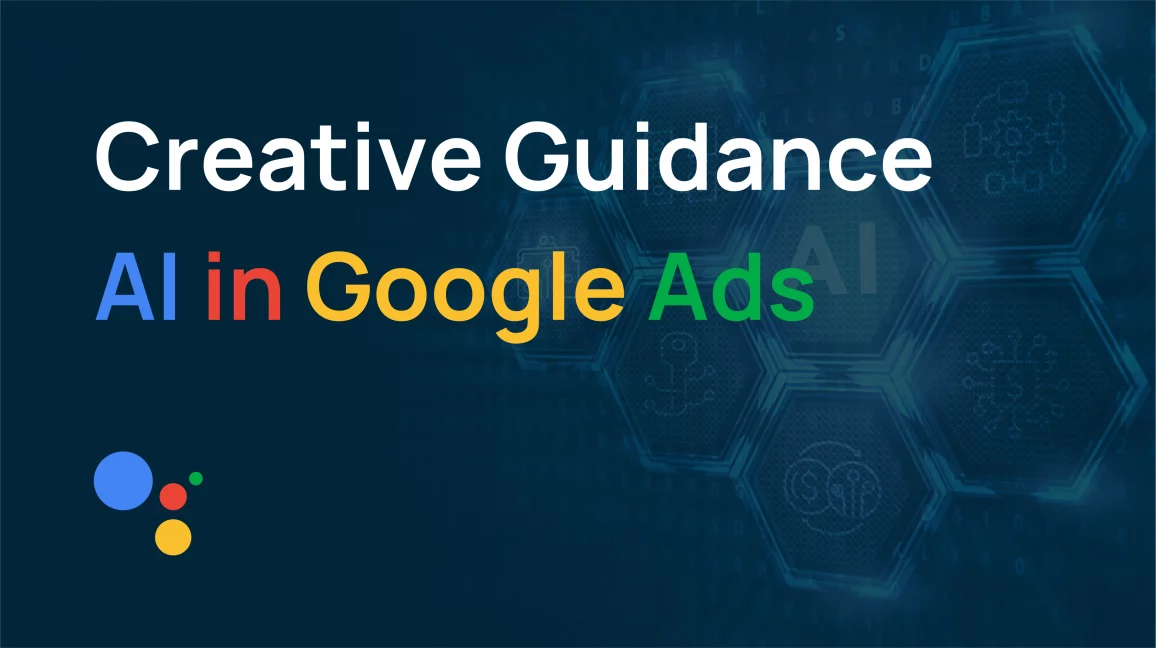 Google AI's Creative Guidance Tool for YouTube Ads: A Complete Guide
Meet the newest innovation in Google Ads: Creative Guidance, an AI-powered ad tool. This innovation is a golden opportunity for advertisers to reach more customers, improve ads, and grow businesses.
Food for thought: 47% of marketers rely on AI for ad targeting! In fact, 32% already use AI for business alongside marketing automation for paid ads.

Even consumers are on board with AI in marketing. According to a recent Capgemini survey, their attitudes toward AI for business are changing rapidly, with 62% of them comfortable with generative AI.
With such huge potential, companies globally are quick to jump into the AI race, and Google isn't far behind. Let's delve deeper into Google's Creative Guidance launch and how it could redefine advertising.
What is Creative Guidance by Google AI?
Creative Guidance is an AI tool launched by Google for YouTube ad optimization. It evaluates content, provides best-practice feedback, and notifies if your Google video ad lacks crucial information or key elements. 
Built into Google Ads, it checks your videos and gives you tips on how to make them perform better based on Google's best practices and requirements.
Google has been an innovator in integrating AI for business into popular products, including Responsive Display Ads. Using its AI knowledge base, these AI-powered search ads can determine the right bids and the best queries to target for better conversion rates.
For instance, you can try different headlines and descriptions with responsive search ads. From keyword strategy to valuable insights, you can leverage Creative Guidance for video action campaigns that facilitate:
Creative elements

Visual storytelling

Actionable insights

Video discovery ads

High-impact changes

Auto-generated videos

Optimum user experience

AI-powered quality voiceovers
Key Features of Google AI's Creative Guidance Ad Tool
Get best-practice assessments for all your visual assets with the Creative Guidance AI tool in Google Ads. Its main feature is about getting notified whenever you miss out on a key, data-backed creative best practice.
The key features help identify the missing creative attributes in your Google ads video, such as:
1. Brand Logo
Ensure a prominent brand logo appears within the first 5 seconds.
2. Video Duration
Stick to the ideal video length based on marketing and business goals.
3. Voiceover
Utilize a high-quality, human voiceover according to your advertising goal.
4. Aspect Ratio
Include horizontal (16:9), vertical (9:16), and square (1:1) video orientations in your ad group.
You can also get great voiceovers in 15 languages right from the asset library and even inside the video creation tool. 
These suggestions are in the "Ideas to Try" section of Video Analytics below the retention curves or in the Recommendations tab.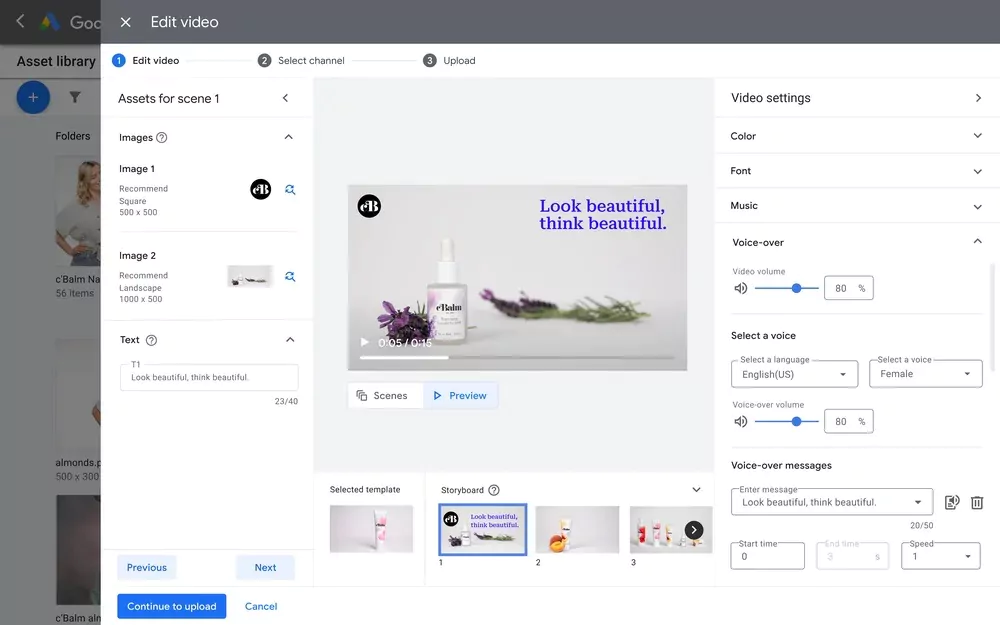 Soon, they will be available in Ads Creative Studio! Google plans to expand this feature gradually, incorporating additional elements.
How Does Creative Guidance Work in Google Ads?
Refer to the below snapshot for using Creative Guidance in Google Ads for your video advertisements: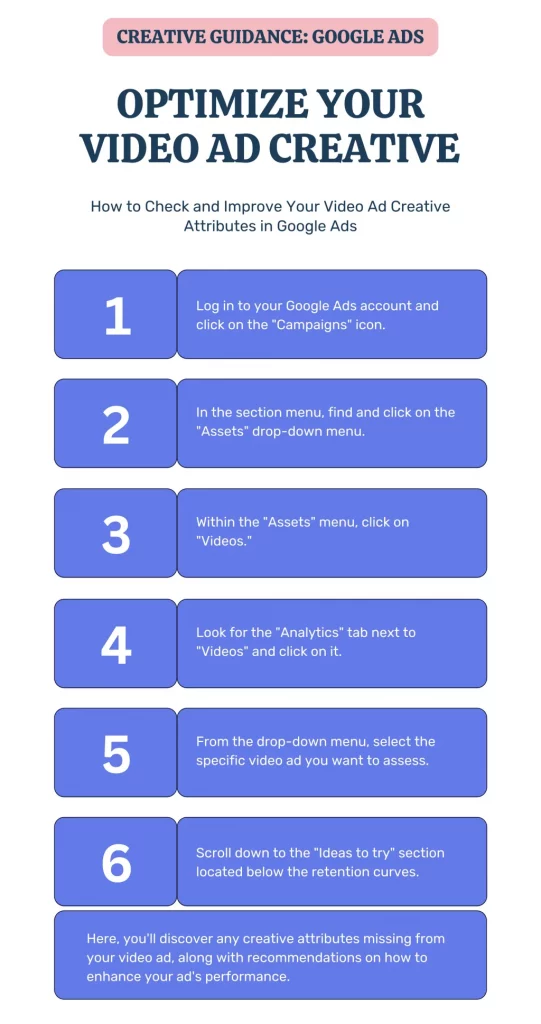 What Can Creative Guidance Do for Smart Campaigns?
Using Creative Guidance in Google Ads, advertisers can take charge of their creative assets by tuning them across various viewing experiences for any YouTube campaign type. 
Here's why it matters for your Google video ad performance:
1. Effortless Assessment
Are you worried about missing crucial suggestions besides the standard ABCD best practice guide? With Creative Guidance, you can swiftly identify if your video ad misses any of the top creative best practices. It gives you a clear understanding of what parts you need to make better to improve your video ad's performance. So, you can be confident that your ad is set for success.
2. Tailored Recommendations
You'll receive personalized video ad optimization recommendations tailor-made for your specific needs. You can use these tips quickly, making it simpler than ever to improve and get the most out of your video ad.
3. AI-Powered Precision
With Creative Guidance's AI capabilities, you can track your ad performance and make it work better in real time. Google's AI accurately helps you get more sales and value from your budget.
4. Consumer-Centric Insights
You can use AI to blend and leverage your knowledge and Google's insight about what customers like. This helps you stay ahead of changing trends and find your customers where they are, whether on popular channels like YouTube or through targeted searches. Creative Guidance makes sure you keep up with what your audience likes.
Creative Guidance helps you use data to make smart decisions that get the best outcomes for your video ad campaigns. It's not just creativity; it's being creative with data-backed precision.
The Future of Google AI's Creative Guidance Tool
While it's true that AI tools like Creative Guidance are rooted in existing content and may lack the ability to generate unique and stand-out creative pieces, there's room for hope and improvement.
"As technology continues to advance, we envision AI becoming an essential creative partner for marketers, aiding in conceptualization, execution, and analysis. We look forward to building this new future with you."

Nicky Rettke, the Vice President (Product Management) at YouTube Ads, in her blog on 'How AI is reshaping the future of YouTube advertising.'
These tools won't replace the advertiser's human creativity, but they've got even better at helping them. They can still expand their AI knowledge base and develop exciting ideas, which can help an advertiser make their own ideas even better.
While having AI think creatively all on its own might be far off, some fascinating things can happen when AI and human creativity team up. For now, know that your creative ideas are still unique and essential, and these helpful tools are becoming increasingly useful in enhancing your creativity.
Artificially Intelligent, Naturally Successful, with Cody AI
AI-powered marketing has just begun, with consumers and marketers favoring AI for business and improving their interactions with brands.
While a new Google Ads user experience will be out in 2024, check out our industry-wide AI employee for business!