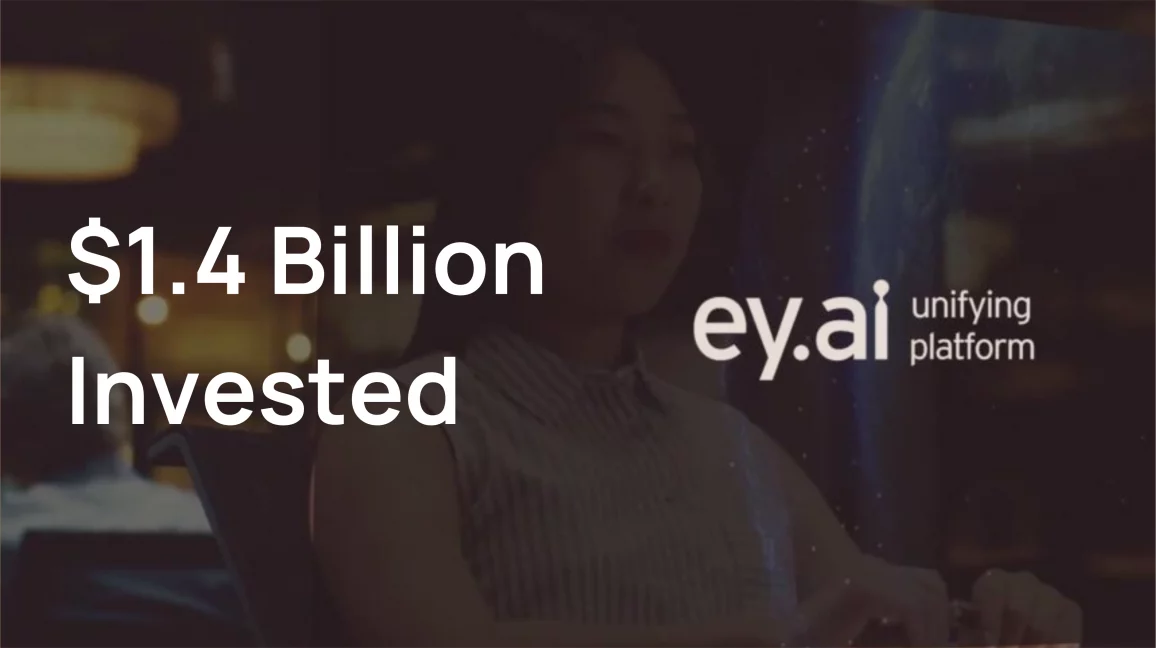 EY's $1.4 Billion Investment Fuels EY.ai Platform: All You Need to Know
Generative AI for business makes firms rethink how to integrate it into their existing systems, tasks, and operations. However, adopting AI goes beyond the technology challenges. So, backed by a huge $1.4 billion investment, Ernst & Young (EY) has announced the launch of EY.ai, a groundbreaking AI platform.
According to the IBM Global AI Adoption Index:
42%

of companies are exploring AI potential within their organizations.

35%

of companies worldwide are already using AI for business operations.
Click here to download the full IBM report.
Let's see how EY pushes artificial intelligence forward, focusing on innovation and responsible adoption. 
What Exactly is EY.ai?
EY.ai is a unifying platform that helps clients to confidently and responsibly embrace AI. This tool can lead to amazing transformations within their organizations, helping businesses succeed in the AI-driven future. It harmoniously combines the intelligence of humans and the potential of AI.
Click here to watch a glimpse!
What's the Use of EY's Artificial Intelligence Platform?
EY.ai helps clients use AI across various fields for profound organizational transformations. It uses advanced EY technology and AI capabilities thanks to EY's broad experience in various fields:
strategy

transactions

transformation

risk

assurance

tax
So, EY.ai is a blend of cutting-edge technology and deep expertise across many industries, offering innovative solutions and insights. With a vast AI knowledge base backing it, this blend gets things done more efficiently. But beyond that, it sparks innovation and ethically adopts AI across a wide range of industries.
And what does that mean for the clients? 
They can confidently implement AI, knowing they're positively impacting society. This way, EY.ai can open up exciting possibilities for the future of business. EY has smoothly integrated AI into its in-house technologies. 
Their primary focus is EY Fabric, which combines business knowledge, advanced technology, and networks to speed up the delivery of solutions. It serves a vast client base of 60,000 with over 1.5 million unique users. Also, the strategic acquisitions have strengthened their expertise in cloud computing and automation technologies.
How is EY Empowering Professionals with AI Knowledge?
EY has been making sure its team is up to speed with AI in the following ways:
Launched a pilot involving 4,200 tech-focused team members

Extensive AI, data, and analytics

learning badges

introduced in 2018

EY Tech MBA program

 started in 2020

Rolling out EY.ai EYQ, a secure, large language model

Plans to launch customized AI learning programs for its employees
For these programs, EY has a clear goal: to boost and broaden the AI know-how of EY professionals, all while keeping a keen eye on responsible AI practices. This way, it is really emphasizing helping their employees become AI-savvy, which is pretty impressive.
"As important as it is to educate the new sets of generations coming in, I also think it's important to educate the existing workforce, so they can understand how to have AI serve them and their roles."

—Sarah Aerni, Director of Data Science,Salesforce
Delivering Excellence in Client Service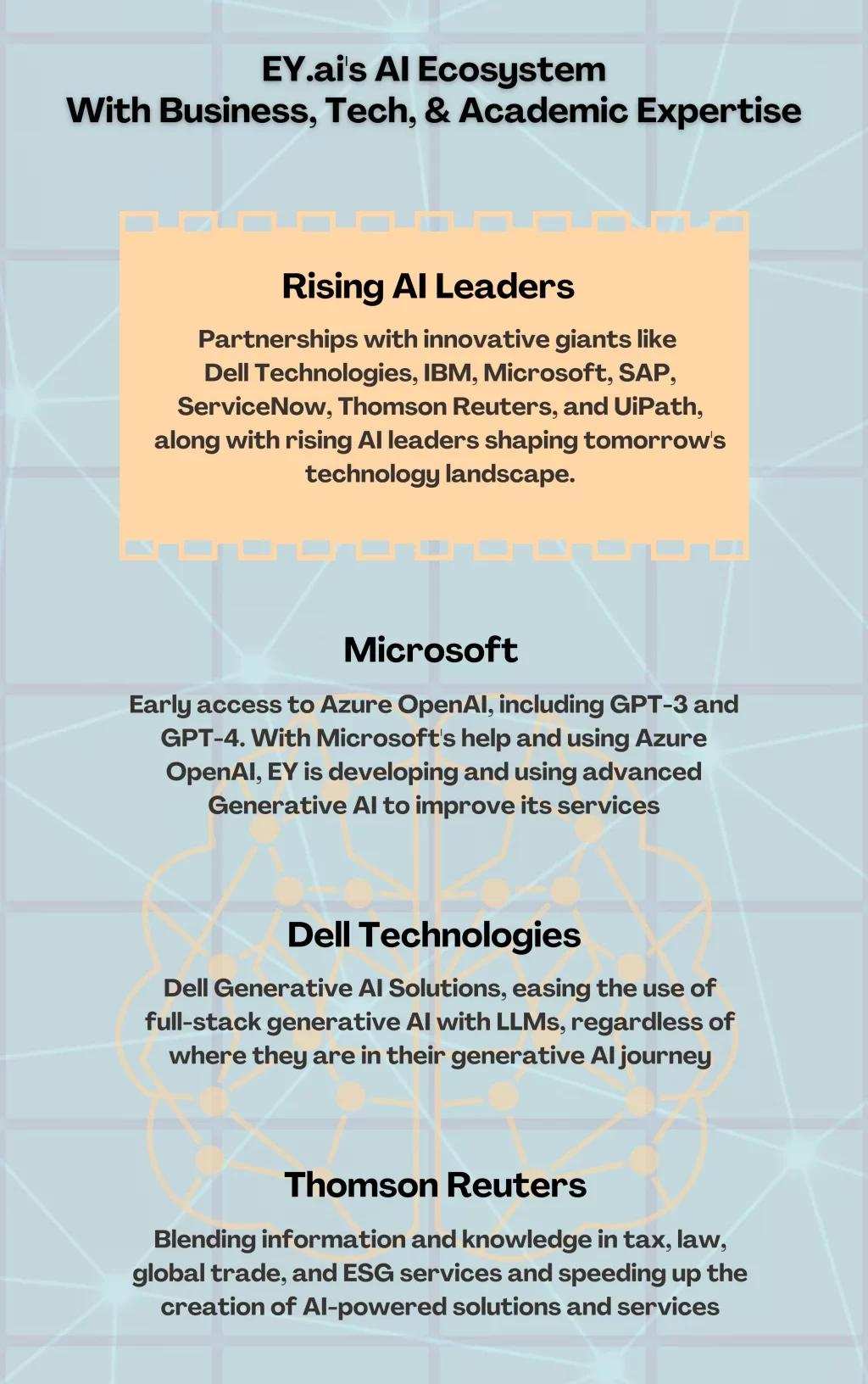 EY's transformative solutions are designed to make client service delivery convenient and more efficient:
EY.ai has excellent insights and an

AI knowledge base

at its disposal.

It helps EY's

employees

guide companies through transformative results.

EY's alliance ecosystem connects clients with the latest tech and infrastructure.

EY Fabric integrated with AI can be accessed by EY teams and 1.5 million users worldwide. 
Diverse AI Solutions and Research Initiatives
In March, EY partnered with Microsoft to roll out a pilot tool – the Intelligent Payroll Chatbot. This chatbot is designed to tackle tricky employee payroll questions. This way, it aims to make the employee experience smoother than ever. And the best part? It's expected to cut the employer's workload by more than half!
Moreover, EY recently introduced 20 new Assurance technology capabilities across its global organization. For this, it incorporated AI on a vast scale. These AI capabilities use publicly available and EY-generated data. This data is integrated directly into the EY Assurance technology platform to allow assessing risks.
But wait, there's more! EY Assurance is also introducing new AI features for:
predictive analytics

content search

summarization

document intelligence

financial statement tie-out procedures
Isn't it like a technological evolution for EY, making their services more competent and efficient?
On top of that, EY is in active talks about a research partnership with the University of Southern California's School of Advanced Computing. USC's impressive $1 billion Frontier of Computing initiative has led to this exciting collaboration.
"The playing field is poised to become a lot more competitive, and businesses that don't deploy AI and data to help them innovate in everything they do will be at a disadvantage."

—Paul Daugherty, Chief Technology and Innovation Officer, Accenture
Wrap Up and Wait!
Ernst & Young's EY.ai could be a pathbreaking innovation in AI for business. With a massive $1.4 billion invested into this project, EY is bringing together human know-how and advanced AI to help clients adopt AI responsibly. It's tapping into their extensive experience and partnering with tech giants.
EY is also committed to upskilling its professionals. Plus, it's seeking collaborative research initiatives. This shows its dedication to ethical AI. This way, EY.ai represents EY's vision of a world where human creativity and AI innovation work hand in hand to enable transformation and responsible AI use.
Stay tuned for its 'Face of the Future' campaign, launching this October. Meanwhile, check out our industry-wide AI employee for business!